Vietnamese shares extended rallies on both local exchanges yesterday as positive business information drove companies up and energy stocks benefited from recent gains in oil prices.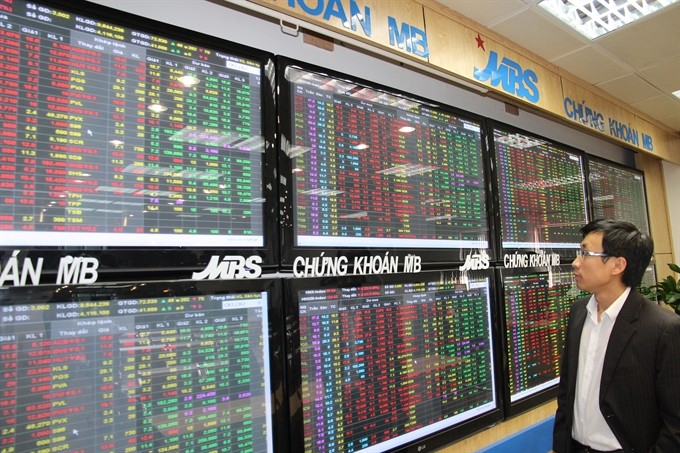 An investor at the MBS exchange floor. VN stocks rallied yesterday on higher oil prices and good business news. – VNS Photo Trương Vị
The benchmark VN Index added 0.7 per cent to close at 571.60 points, rallying 2.8 per cent in the last three trading days.
The HNX Index on the Hà Nội Stock Exchange rose 0.5 per cent to finish at 79.70 points. The northern index has increased by 1.6 per cent in the last four sessions.
Both markets were boosted by stocks that have provided positive business information.
Dairy firm Vinamilk (VNM) rose 2.9 per cent after the company recently removed seven businesses from its portfolio to raise foreign investment in its capital.
Tiến Lên Steel Group JSC (TLH) jumped 5.7 per cent after the company said it expects a net profit of VNĐ100 billion (US$4.4 million) in the first quarter of this year, a huge improvement compared to last year's total loss of VNĐ169 billion.
The Telecommunication Industry Electronics JSC (TIE) surged 6.4 per cent after the company reported an audited net profit of VNĐ14 billion, a slight increase from the company's pre-auditing result.
Local energy stocks rose on recent gains in crude prices, on lower US stockpiles and a weaker US dollar, after the US central bank showed caution about this year's rate hike plan.
However, crude prices turned into negative territory as Iraq's exports increased and analysts were pessimistic that an agreement on a production freeze may be reached at a meeting this month between major producers.
US crude West Texas Intermediate (WTI) inched down 0.1 per cent to trade at $37.71 a barrel and London-traded Brent crude was down 0.2 per cent to trade at $39.78 a barrel.
But in general, WTI and Brent crude have surged 5.6 per cent and 5.5 per cent, respectively, in the last three sessions.
In the energy sector, PetroVietnam Gas Corp (GAS) advanced 2.5 per cent, while other major stocks such as PetroVietnam Drilling and Well Service Corp (PVD), PetroVietnam Mud Drilling Corp (PVC) and PetroVietnam Technical Service Corp (PVS) were up between 1.4 per cent and 1.9 per cent.
In addition, investor confidence was bolstered as foreign investors recorded a net buying value of VNĐ113 billion on both local bourses, local media reported yesterday.
Strong foreign investment lifted Saigon Securities Inc (SSI), HCM City Infrastructure Investment JSC (CII) and insurer Bảo Việt Holdings (BVH) with gains of 0.4 per cent, 5.4 per cent and 0.9 per cent, respectively.
Both local markets traded more than 170 million shares worth VNĐ2.73 trillion, unchanged from Wednesday's trading value. – VNS