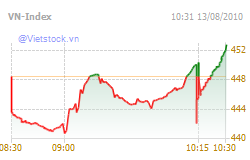 Movements of VN-Index on August 13. (Photo: vietstock.vn)

The shares of 253 companies and five mutual funds listed on the Ho Chi Minh Stock Exchange rebounded on August 13, thanks to rising bottom-catching demand after the Vietnam's benchmark VN-Index sank to 440 points.
The gauge climbed 4.33 points, or 0.97 percent, to close at 452.73 points. Trading volume on the city bourse slightly fell over the previous session to nearly 46 million shares. However, trading value increased to VND1.34 trillion as the prices improved.
Of the index, 141 stocks jumped, 55 dropped, while 62 treaded water.
The order of three most active shares in volume was same as the previous day. Of which, Refrigeration Electrical Engineering Corporation (REE) took the first rank with 1.61 million shares changing hands.
It was followed by Saigon Thuong Tin Commercial Bank or Sacombank (STB), which had 1.49 million shares traded today.
From June 18 to July 27, Dragon Financial Holdings Limited, inside shareholder of Saigon Thuong Tin Commercial Bank or Sacombank (STB), registered to sell 15 million shares to restructure its investment category. However, it sold only 13.28 million shares because the prices were not as expected. Its current holdings were at 44,767,554 shares, accounting for 6.68 percent of STB's chartered capital.
The country's largest brokerage Saigon Securities Inc. (SSI) chased after with 1.39 million shares.
Viet Nam Golf Tourism Joint Stock Company (VNG) was the biggest gainer, advancing the daily maximum allowed limit of 5 percent to VND16,800.
From July 20 to August 15, Nguyen Minh Hai, member of the Board of Supervisors of Viet Nam Golf Tourism Joint Stock Company (VNG) sold 5,000 shares, reducing his holdings to 5,000 shares, for personal needs.
Pomina Steel Corporation (POM) capped its six-consecutive-trading-session losing streak, adding up 4.98 percent to VND31,600.
Binh Duong Trade and Development Joint Stock Company (TDC) edged up the first time in seven trading sessions. The company's shares traded up 4.97 percent to VND33,800.
Meanwhile, construction company De Tam Joint Stock Company (DTA) collapsed 5 percent to VND22,800.
Dinh Vu Port Investment & Development Joint Stock Company (DVP) and Lilama 10 Joint Stock Company (L10) both gave up 4.99 percent to VND34,300.
Tran Van Tien, deputy general director of Lilama 10 Joint Stock Company (L10), registered to sell 27,000 shares between August 12 and October 12, sending his holdings to 112 shares, for personal needs.
Cuong Thuan Investment Corporation (CTI) sank 4.94 percent to VND40,400. The company announced that it would use the domain name cuongthuan.vn instead of cuongthuan.com.
The Hanoi's HNX-Index finished at 134.97 points, rising 2.94 points, or 2.23 percent. The northern market saw 39 million shares change hands at VND963.41 billion.
The UPCoM-Index rose 0.87 points to 48.98. A total of 385,281 shares, worth VND6.41 billion, changed hands as of 11 am local time.