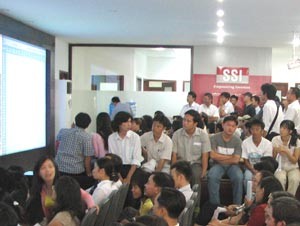 Investors still not have best services by securities companies are not compete to gain customers. (Photo: T.C).
According to the latest news from the Ho Chi Minh City Securities Trading Center, the East Asia Bank Securities Co. has increased its registered capital to VND135 billion (US$8.5 million) from VND50 billion.
That figure pales beside the VND500 billion in exchange bonds issued by Saigon Securities Inc., a sum that wills double the joint-stock broker's capital. That tidbit was announced by CEO Mr. Nguyen Duy Hung in a recent online discussion arranged by Vietstock securities forum.
The financial community seems to be in a race to increase capital, and to open up more branches and offices, quite a change from the placid past.
In the last 12 months, the brokering arms of the Bank for Investment and Development of Viet Nam (BIDV), Bank for Foreign Trade of Viet Nam (Vietcombank), East Asia and Saigon Securities have opened quite a few branches and offices.
The growing demand for corporate stocks and the new breed of savvy investors are forcing the brokers to compete. As just one example, a new face on the block, Sacombank Securities Co., is letting its clients pledge OTC stocks and even real estate to buy bourse-listed shares.
It's a fertile land that the brokers are tilling. And as institution after institution sets up securities firm after securities firm, those who anticipated the trend and got in first are reaping the rewards.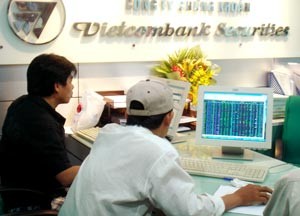 Online trading service inly has in Vietcombank Securities Co. until now. (Photo: T.C)
A lot of their customers don't share the enthusiasm, and with good reason. Take Ms. Van Hanh of Ho Chi Minh City, who reckons "the service at many securities companies is still very poor. There's been almost no change in the past five, six years". Perhaps that will change when the brokers realize they must raise their game or be left behind.
The Asia Commercial Bank Securities Co., the Ho Chi Minh City Securities Co. and Saigon Securities Inc. are improving their infrastructure and waiting for the law to change so that more firms can offer online trading, something that has been the exclusive preserve of Vietcombank Securities Co. until now.
BIDV Securities Co. claims it too has permission to offer online trading but is waiting for the other brokers to improve their computer networks before introducing the service.
Like in banking, a new race is about to start, and investors are cheering from the side of the track as they will benefit from better and cheaper services. And they will have easier access to the stock market, once the local bourse lifts its game and shortens the distance to the stock exchanges in the region.
Related Articles:
Retail Investors Get a Better Deal
Sacombank Securities - Second Largest Securities Firm in Capital Opens
Ho Chi Minh City Bourse Welcomes New Member
Rushing to Set up Securities Firms
VCBS To Buy 1 Million Shares Of Southern Bank
Vietstock Holds Offline Meetings