Shares were on the defensive on February 28 as investors offloaded large-cap stocks and channeled money into small and penny stocks on expectations of higher returns.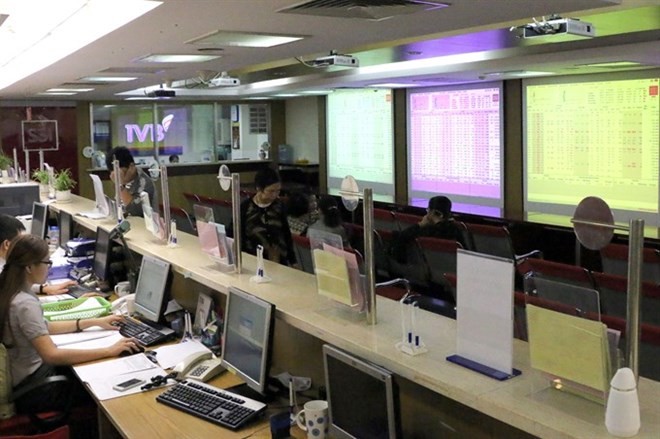 Investors watch share prices at Saigon Securities Inc's trading floor in Hanoi (Photo: VNA)
The benchmark VN-Index on the HCM Stock Exchange retreated 0.93 percent to close at 710.8 points. On the previous day, the southern index edged up 0.42 percent.
Twenty four of the 30 largest shares by market capitalisation and liquidity slumped, while only three advanced.
Financials and property stocks, which have climbed substantially in the past rallies, were under the biggest selling pressure. They included Vietcombank (VCB), BIDV (BID), Vietinbank (CTG), Military Bank (MBB), private equity firm Masan Group (MSN), property developer VinGroup (VIC), Kinh Bac City Development (KBC).
Some cheap stocks continued their growth, such as FLC Group (FLC), Hoang Anh Gia Lai Co (HAG), Tan Tao Investment Industry Corp (ITA) and Eximbank (EIB).
"After several failures to break the threshold of 720 points, investors turned their attention to small- and medium-cap stocks to seek higher returns," said Bui Nguyen Khoa, a stock analyst at BIDV Securities Co. Khoa said the market experienced a wide divergence as money flowed into different stock groups.
Sugar shares were sweet yesterday with most advancing. Bien Hoa Sugar (BHN) climbed 6.8 percent, while others Sơn La Sugar (SLS), Lam Son Sugar (LSS), Safoco Foodstuff (SAF) increased between 1 percent and 3.5 percent.
Liquidity remained high with over 192 million shares worth 3.3 trillion VND (144.7 million USD) traded in the southern market.
On the Hanoi Stock Exchange, the HNX-Index inched down 0.04 percent to end at the day-low at 86.8 points.
Trading volume decreased over 8 percent here, totaling over 56 million shares, but value increased 4.6 percent to reach 477.5 billion VND.
Two firms made debuts on the Unlisted Public Company Market (UPCoM) yesterday, including Saigon–Quang Ngai Beer (BSQ) and EVN International (EIC).
The beer company floated 45 million shares on the UPCoM. This is a subsidiary of southern brewery Sabeco (SAB) which is trading on the HCM Stock Exchange. The share rose by the maximum 40 percent on its first trading day at 31,600 VND a share.
EVN International (EIC) listed 36.7 million shares, which hit the daily limit rise of 40 percent at 14,700 VND a share.
Foreign investors returned as net buyers yesterday, with a net value of 30 billion VND after offloading net sell value of 62 billion VND on  February 27