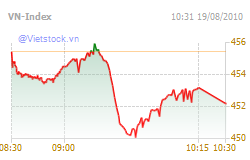 Movements of VN-Index on August 19. (Photo: vietstock.vn)

VN-Index, which tracks 253 companies and five mutual funds listed on the Ho Chi Minh Stock Exchange, tumbled for three consecutive days on August 19.
The benchmark eroded 0.72 percent, or 3.26 points, to finish at 452.23.
On the index, 57 stocks advanced, 139 retreated, while 62 moved flat.
Liquidity on the city bourse dropped to a record low as investors listened out for impact of the State Bank of Vietnam's decision to adjust dollar exchange rate. Around 31.54 million shares worth VND873 billion changed hands.
With 2.04 million shares changing hands today, Vietnam Export Import Commercial Joint Stock Bank (EIB) won the position of the most active share in volume. It was followed by Saigon Thuong Tin Commercial Bank or Sacombank (STB), which saw 1.18 million shares being traded.
Saigon Securities Inc. (SSI), the country's largest brokerage, came in third with 723,150 shares changing hands.
Ngo Anh Thu, daughter of Ngo Van Diem – member of the Board of Directors of Saigon Securities Inc. (SSI), bought 2,500 shares between July 19 and 27, and sold 500 shares on August 3 without making announcement.
Sacombank Securities Joint Stock Company (SBS) was the biggest losers on southern market, contracting 4.98 percent to VND26,700. The company announced that it would collaborate with Lao Development Bank to establish a securities company in Laos later this year.
Chuong Duong Beverages Joint Stock Company (SCD) curbed its four-straight-day winning streak, declining 4.91 percent to VND27,100.
Sao Mai Construction Corporation (ASM) fell the third day, shrinking 4.84 percent to VND59,000.
Urban Development and Construction Corporation (UDC), which located in Vung Tau City, jumped 4.85 percent to VND17,300.
Construction and Materials Trading Joint Stock Company (CNT) traded up 4.66 percent to VND29,200.
Tan Dai Hung Plastic Joint Stock Company (TPC) climbed 4.35 percent to VND12,000.
At the smaller bourse in the north, Hanoi's HNX-Index closed at 132.25 points, dipping 0.37 points, or 0.28 percent. Trading volume fell over the previous session as just 25.2 million shares changed hands at VND664.86 billion. Foreign investors continued to net buy for nearly VND2 billion this morning.
The UPCoM-Index also lost 0.61 points to 48.26 points. A total of 174,800 shares were traded as of 11 am local time.