Bond becomes an attractive investment class as the stock market shows no signs of recovery and bank interest rate remain on a rise.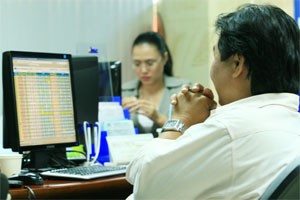 An investor nervously watches share prices updated on a computer monitor at the Ho Chi Minh City Securities Corp. Bonds are more attractive than stock amid the bearish market and high interest rate (Photo:Minh Tri)
Most bond issuances last year were successful, with around business bonds worth around VND47 trillion (US$2.4 billion) sold out.
Of the amount, state utility Electricity of Vietnam, known as EVN, sold out bonds worth VND2 trillion ($100 million), construction giant Vinaconex VND2 trillion, Song Da Group VND1.5 trillion and property group Vincom VND1 trillion.
Analysts said high bank interest rate made bond more attractive as businesses issuing bonds only repaid the loans in the maturity time and paid coupons in accordance with six-month or one-year terms.
Banks, meanwhile, offer loans based on mortgaged properties, so only borrowers who have good business performance will be able to access loans, the analysts said.
Stock investors have also struggled to borrow money from banks since the State Bank of Vietnam raised the risk coefficient rate of stocks and property loans to 250 percent.
The central bank instructed commercial banks to strictly restrict loans on non-productive sectors including property and stock market this year in an effort to battle accelerating inflation.
Most business bonds are in short terms, with a coupon up to 10-16 percent in the first year and free-floating rate in the following ones. Experts said the free-floating rates were equal to the interest rate of the four largest lenders plus an additional 2-4 percent.
Hoa Phat Group, Vietnam's biggest steel producer, issued three-years-term bonds worth VND800 billion ($40 million), with an annual coupon of 14.5 percent for the first year and free-floating rate for the last two.
Similarly, Song Da Group offered five-year bonds worth VND1.5 trillion, with an annual coupon of 15 percent for the first year, Vinaconex issued two-year bonds worth VND2 trillion with an annual coupon of 14 percent for the first year and furniture maker Hoang Anh Gia Lai issued three-year bonds worth VND530 billion with an annual coupon of 15.2 percent.
Businesses, however, are expected to struggle to issue bonds in foreign markets as Moody's and Standard & Poor's have downgraded Vietnam's sovereign credit rating and cut ratings for Vietnamese banks, due in part to the implications of the Vinashin case.
The ship builder had accumulated debt of about VND86 trillion ($4.41 billion) as of June last year, the government said.
Statistics show the government plans to issue bonds worth VND45 trillion this year. Of the amount, VND23 trillion will be allocated to traffic and transportation projects, VND12 trillion to hydropower, VND4 trillion to medicine, VND4.5 trillion to education and the remainders to the resettlement of Son La Hydropower Plant project.