Vietnam is missing the chance to earn valuable foreign currency from tourism as many international holidaymakers earmark several hundred US dollars to buy gifts during their trip to Vietnam but go back disappointed with the local tourism industry failing to showcase attractive souvenirs for them to take back.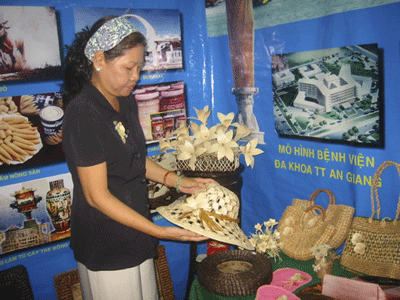 A tourist selecting a bamboo hat in a shop in the Mekong Delta (Photo: SGGP)
A large souvenir market is awaiting development in the Mekong Delta region as many foreigners visit the area but find little that attracts them to open their purse strings.
In fact, each province in the Mekong Delta region has capacity to develop its own souvenirs from local materials. According to  Tran Kim Dinh, director of Mekong Travel Agency, the southernmost province of Ca Mau has  pictures made from skin of malaleuca cajuputi; An Giang Province in the west has coconut palm pictures and brocade cloth made by Cham or Khmer ethnic minority people; Soc Trang Province also makes pictures from skin of fresh corn, besides other small wooden items such as betel nut trays and boats; Kien Giang Province sell items made from mother-of-pearl or tortoise-shell; Vinh Long Province has water hyacinth weed baskets and porcelain décor items.
However, Dinh said that the souvenir designs are so simple and monotonous and need further development. Many rich travelers can spend upto $400 a day on shopping, but there is little to choose from during their stay in the Mekong Delta provinces as all shops only sell souvenirs from Ho Chi Minh City, without any items bearing impressions of the locality.
Until July this year, around 13 million tourists had visited the Mekong Delta provinces, bringing revenues upto VND2.6 trillion (US$125million), an increase of 25 percent compared to the same period last year. For such a large volume, the souvenir market has still not been adequately developed, and the country is losing a valuable opportunity to earn more foreign currency and propagate the beauty and culture of its people abroad.
Western tourists are fond of lacquer ware, Japanese people are more interested in embroidered pictures, and American travelers prefer handicrafts made from wood, bamboo or rice straw. Vietnam has so far exported many such commodities in large numbers to these countries, but when the foreign visitors come to Vietnam, they do not want to buy these items, which is a real paradox.
Does Vietnam have so little experience in developing, preserving and marketing hand crafted souvenir items, which show the local culture?  Perhaps the country should study the Thai example of the One Tambon One Product (OTOP) Project it developed in 2001.
OTOP program encourages village communities to improve local product quality and marketing, select one superior product from each tambon to receive formal branding as a 'starred OTOP product' and provide a local and international stage for the promotion of the product. OTOP products cover a large array of local items such as handicrafts, cotton and silk garments, pottery, fashion accessories, household items, and foodstuffs.