"The profit margin in the first half of the year was measly 5 percent, while the inflation in the first half soared to nearly 14 percent. I suffer heavy losses," says director of a Ho Chi Minh City-based textile enterprise.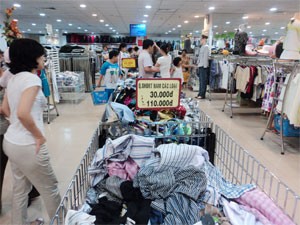 Many small- and medium-size enterprises consider shutting down as they suffer heavy losses from the economic slowdown (Photo: Minh Tri)
The director, who has 3,300 employees and 80 outlets, considers turning her factory with a large area of thousands of square meters into an apartment building.
"The company is struggling with high lending interest rate and increasing input costs. Sometimes I had to borrow money from loan sharks with the lending rate of 9 percent per month to pay employee salary," she says. 
The outlets located in downtown of the city incurred big losses as the retail space rental increased sharply to US$3,000-5,000 per month, she discloses.
"We consider either reducing operation or switching to other kinds of business," she says.
Hong, director of a textile material supplier, says the firm has been at risk of bankruptcy since fiber price slumped 40 percent this year.
Some local enterprises have to narrow down their distribution network and canceled their business plans due to the economic turmoil.
The footwear manufacturer Asia has shut down their only one showroom in HCMC's District 10. Officials from the company disclose they cannot cover the showroom's rent of tens of millions per month.
Trung, director of a small textile firm in Tan Binh District, worries that inflation will be worsen on the surging gold price.
"Material costs always moved up on the increasing gold price in the last three years," he notices.
His firm has borrowed nearly VND300 million ($15,000) to cover the losses, which was caused by a slowdown business.
Sales at retail markets and supermarkets plunged by 20-40 percent year-on-year, he says, adding he has to lay off four out of 16 employees this year.
Vietnam gold price jumped to an all-time high of VND40.15 million a tael (1.2 ounces) on July 30 as global price surged to record on demand for an investment haven amid mounting concerns on the US debt impasse and signs of a faltering economy.
 
The Ministry of Industry and Trade expects the economy will continue to cope with more challenges in the second half, including high inflation, wide trade gap and slow growth rate.
Vietnam's growth is expected to slow to 6.1 percent this year as authorities tighten monetary policies and cut government expenditures to bring inflation under control, the Asian Development Bank said Thursday.
The economy expanded 5.7 percent in the second quarter of 2011, compared to 5.4 percent in the first quarter, supported by increased industrial and construction output.
However, growth has moderated from last year's 6.8 percent as monetary and fiscal policies were tightened to cool the economy, according to the July edition of ADB's Asia Economic Monitor report.