The General Department of Vietnam Customs said the country has imported only about 7,000 cars in the first quarter of the year, which is a decrease of 4.29 percent against the same period last year.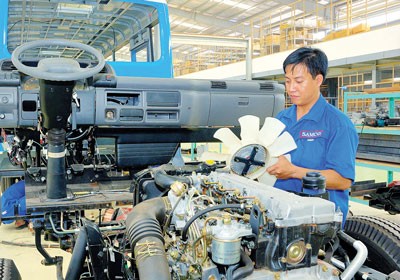 (Photo: SGGP)
Although there is a decline in imports, turnover has seen a slight increase of 0.5 percent at US$137 million.
South Korea continues to be the main supplier of cars to Vietnam, with 3,518 cars a year. Vietnam is also importing cars from Thailand with 1,346 cars; China with 734; and Japan with 1,346 cars.
According to Vietnam Automobile Manufacturers' Association (VAMA), Toyota is leading enterprise in selling cars in the domestic market. In the first quarter, it sold 6,477 cars, accounting for 34.6 percent market share.
Truong Hai Auto Corporation ranks second with 4,834 cars sold, accounting for 25.8 percent; while Thaco Truck Company stands third with 2,942 cars-accounting for 15.7 percent.
There is no sign of recovery of purchase power, the association informed; however, VAMA still hopes that around 100,000 cars will be consumed in 2013, an increase of 8 percent against last year.
In related news, the Prime Minister decided a change in import tax on used cars. The tax on imported used cars of nine seats or less and an engine displacement of less than 1,000cc, will be $5,000 per car; while tax for each used car of nine seats or less, with a cylinder capacity between 1,000-1,500cc, will be $10,000.