The Saigon Industrial Company, a firm specializing in automated process lines, has developed a semi-automatic poultry slaughtering line.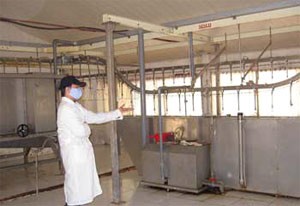 A poultry slaughtering line manufactured by Sinco
The line can slaughter 700-1,000 chickens and 300-500 ducks per hour.

The company, whose trading name is Sinco, has signed contracts to supply one line to Pham Ton Co. in Ho Chi Minh City and another to Ngoc Suong Co. in adjoining Long An Province. The two lines are worth VND2.3 billion (about US$ 143,000).

The deliveries are due to be conducted at the end of this month.