Shrimp exports have made an impressive breakthrough though the country's other export commodities are facing difficulties since the beginning of the year.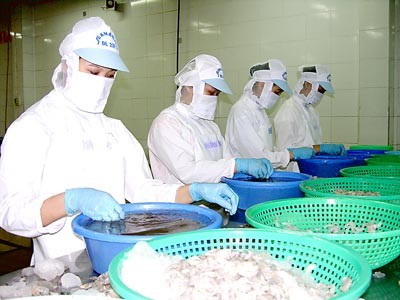 Shrimp exports see robust growth. (Photo: SGGP)
With the US Department of Commerce (DOC) lifting dumping duty on Vietnamese shrimp, exports are seeing an advantageous growth.
All 33 Vietnamese shrimp exporters will enjoy a zero tax on products imported to the US during the period from February 1, 2011 to January 31, 2012, according to DOC's final decision.
According to Vietnam Association of Seafood Exporters and Producers (VASEP), Vietnamese shrimp products were officially imposed anti-dumping duty of 4.57 percent by the US in 2004.
However, after seven reviews, along with tenacious efforts of Vietnamese businesses, DOC finally admitted that Vietnamese businesses did not dump their shrimps and levied a zero tax on their products for the first time, now being considered a positive sign for the Vietnamese shrimp industry.
In addition, shrimp exports hit US$280 million in August this year, up 38 percent year-on-year, raising shrimp export turnover in the first eight months of the year to $1.7 billion, up 18 percent year-on-year.
Truong Dinh Hoe, General Secretary of VASEP, said that difficulties in export of shrimps had cast doubts on the possibility of meeting shrimp export targets for this year. However, with efforts of businesses and support from relevant departments, shrimp exports have swiftly recovered.
Shrimp exports to most markets saw increase, of which the US market is up nearly 43 percent; Japan 11.4 percent; the EU market 5.3 percent; China 37 percent; and Canada 36 percent.
In early July, the Ministry of Industry and Trade remained concerned that shrimp exports would merely touch $2.1 billion this year, a decrease of 5 percent compared to the previous year, due to stricter technical barriers from many countries around the world, while  domestic shrimp supply became scarce because of disease outbreak. However, local businesses have managed to survive amid several difficulties.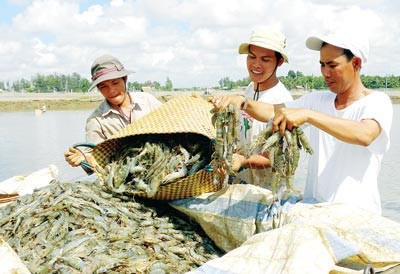 Shrimp supply recovers with diseases under control. (Photo: SGGP)
According to VASEP's calculation, with an average export of about $250 million per month, export of shrimp will possibly bring in $2.5-2.6 billion this year, up about 15 percent over last year, exceeding this year's plan.
Chu Van An, Deputy CEO of Minh Phu Seafood Corporation, said that the zero tax decided by DOC will be an opportunity for shrimp exporters to promote exports in the last months of this year.
Ly Van Thuan, General Secretary of Ca Mau Association of Seafood Exporters and Producers, said seafood companies in the province have seen improvement lately as the door to the global market has reopened and shrimp supply has recovered with diseases under control. The province is trying its best to bring shrimp exports to touch $1 billion this year.
A vibrant export market has helped to raise the price of shrimps in the country. In Ca Mau, Bac Lieu, Soc Trang, and Ben Tre Provinces, the price of size-20 tiger prawns rose to VND240,000-250,000 per kilo; size-30 tiger prawns at VND200,000 per kilo; size-40 tiger prawns at VND160,000-170,000 per kilo; and size-60 white-leg shrimps at VND135,000-140,000 per kilo.
Rapid recovery in the shrimp market has created favorable conditions to lift the economy of the coastal provinces in Vietnam.