The recent hike in shrimp prices in the coastal provinces of the Mekong Delta have failed to enthuse breeders, as they have no more aquatic crops to sell and are in desperate need of further capital for the next crop.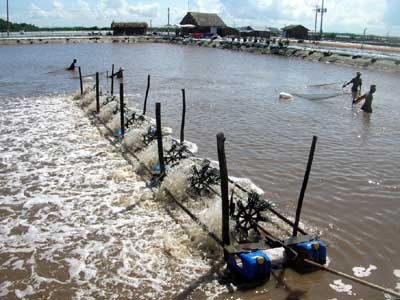 A shrimp farm in the Mekong Delta
In Ben Tre, Tra Vinh and Bac Lieu Provinces in the Mekong Delta, shrimp farmers are unexcited about the increased prices. Le Hoang Vu, a shrimp farmer in Binh Thoi Commune of Binh Dai District in Ben Tre Province, said he has just sold 900 kilograms of shrimps at VND130,000 (US$6.2) a kilogram, profiting by VND15 million($720).
But Vu moaned that a profit of VND15 million was not high enough because he had spent much more on tackling diseases and lost on account of dead shrimps as well, which all reduced his income.
Le Minh Hung, party secretary of Binh Thoi Commune, said that Vu should consider himself lucky that at least he is still selling shrimps as in the commune 70 percent of aquatic animals have died due to diseases.
Farmers in Cau Ngang, Duyen Hai, Tra Cu Districts of Tra Vinh Province are unhappy to see shrimp prices shoot up every day. Dang Van Chien in Hiep Thanh Commune in Duyen Hai District of Tra Vinh Province said many hectares of shrimp farms in Bac Lieu have been destroyed because of disease. Most of the shrimp have died within 20 to 30 days of breeding, causing great financial stress to farmers who invested in upgrading ponds, improving on shrimp breeding and better feed. Chien is lucky to still maintain a 3,000 square meter pond, but he has not earned much because disease in shrimps is rampant.
According to the People Committee of Tra Vinh Province, shrimps have died enmasse over 9,000 hectares of shrimp farms in the province, resulting in a loss of VND2.3 trillion ($110 million) since the beginning of the year.  Many breeders are continuing to raise shrimps on 5,886 hectares but have failed. Increasing prices result in shortage of shrimps, but farmers are unable to benefit from this.
The Vietnam Association of Seafood Exporters and Producers (VASEP) announced that export of shrimps in June decreased by around 4 percent and in July by 6.8 percent. This happened because of increased competition from many countries; difficulty in finding new markets; shrinking of old markets; and disease in shrimps. But exports are expected to leap in the third quarter of the year.
Shrimps died enmasse in coastal provinces of the Mekong Delta worrying experts and farmers. Many international and domestic scientists jumped in to investigate the cause of these deaths, but their efforts have all failed.
Nguyen Van Phong, deputy chairman of the People's Committee of Tra Vinh Province, said this year unusual deaths of shrimps have caused concern among farmers who are asking me how to treat them, whenever they meet me.
Vo Hong Ngoan, an experienced farmer and considered the King of Shrimp in Vinh Trach Commune of Bac Lieu Province, said people flocked to the province to breed shrimps without paying attention to investing in environment protection. Many of them used toxic chemicals to reduce environmental pollution and curb further deaths in their crops of shrimps.
Ngoan confirmed that many households in coastal provinces of the Mekong Delta are living changed lives, thanks to shrimp breeding, but many households are also bankrupt and in bad debts for  the same reason.