The Government has targeted the nation's service sector to achieve a turnover of US$12 billion per year by 2010.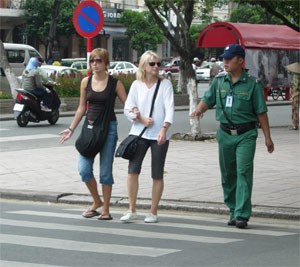 Tourism will remain the largest foreign currency earner among the country's key servce sector (Photo: K.Khanh)
Under the Government's newly approved plan, the nation aims to achieve an annual growth rate of 16.3 percent in service revenue during this period.
Specific service sector has been targeted to achieve even more aggressive growth rates, including insurance (29.3 percent), telecoms (24.5 percent), financial services (22.4 percent) and marine transportation (21.5 percent).
Tourism will remain the largest foreign currency earner among the country's key service sector, with projected revenue of US$3.2 billion , while marine transportation aims to earn US$1.1 billion  and air transportation US$950 million .
Unlike developed nations in which services account for around 40 percent of GDP, Viet Nam 's services sector reached only US$21.8  billion, accounting for only10.8 percent of GDP, during 2001-05 period.
Japan External Trade Organization (JETRO) senior advisor Ken Arakawa, at a recent seminar on services, outlined a lack of professional skills, poor service quality, and costly communication services as major obstacles facing the Vietnamese services sector.
WTO entry brought Vietnamese enterprises a lot of opportunities as increasing numbers of foreign service providers were interested in the Viet Nam market, creating a chance for domestic companies to take advantage of higher-skilled human resources, more modern technology, and a more professional model for providing services and management, Arakawa said.
Other local experts suggested that Viet Nam should focus on completing the legal framework in taxation, investment procedures, and incentives as well as building national trademarks.
Trade promotion campaigns needed to be launched in addition to developing marketing and human resources training, they added.