A seminar seeking ideas to combat and prevent the production and circulation of fake and low-quality goods in the country took place in Ho Chi Minh City on March 15.
The seminar, held by the Vietnam Competition Authority (VCA) under the Ministry of Industry and Trade, is part of activities to mark International Day for Protection of Consumer Interests (March 15).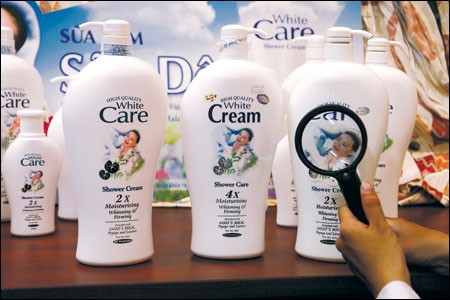 The two shower gel bottles on the right-hand side are fake goods and put next to authentic products at the seminar (Photo: Phu Nu Newspaper)
The ideas will be included in a draft law on consumer protection which is expected to be submitted to the National Assembly for consideration in its coming session, Deputy Minister of Industry and Trade Le Danh Vinh told seminar participants.
According to him, fake goods are increasingly available on the domestic market, seriously damaging consumer interests.
Lucrative profits are the main driving force behind the situation, said VCA officials, mentioning a wide range of fake goods from consumer products to input materials.
In addition, "weak efforts made by businesses in the fight against fake goods, overlapping management by government agencies and technological advances in counterfeiting goods have made the situation worse, said the officials.
Fake alcohol, tobacco, foodstuffs, fertilizer and seedlings are affecting the people's health, they warned.
Along with completing legal documents, the officials concluded that it is a must to teach people relevant laws in order to raise public awareness in the fight against fake goods.
Also, businesses and government agencies need to work closely together in the fight, they added.