After three rounds of talks starting last January, Viet Nam and Japan are planning to sign several economic partnership agreements before the year is out.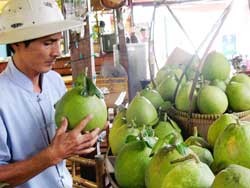 Fresh fruit in Mekong Delta
The low tariffs in the Viet Nam – Japan Economic Partnership Agreements (VJEPA) will make it much easier to sell Vietnamese goods to Japan.
 
To take full advantage of the agreements, the Vietnamese government and the nation's companies must prepare carefully.
 
Experts say VJEPA will benefit the two countries' producers, especially Vietnamese companies, and predict that bilateral trade will reach US$18 billion.
 
Mr. Nguyen Trung Dung, deputy director of the Vietnam Competition Administration Department and a former Vietnamese commercial counselor in Japan, remarked that VJEPA concentrated on three areas: agriculture, people and cooperation. The last of these would play an important part by providing support, he said.
 
As an example, Mr. Dung said the Japanese were keen on Vietnamese farm commodities, especially fresh fruit and vegetables, but exporting these items was plagued with problems due to a "technological barrier between the two countries".
 
To solve these problems, Mr. Dung suggested Japan and Viet Nam cooperate more in technology.
 
Former trade minister Truong Dinh Tuyen said that the gateway to Japan was open to Vietnamese businesses but, to pass through, they needed to carefully prepare, and ensure the quality and proper packaging of their merchandise.
 
In addition, the relevant government department should do more to organize production and advertising to support the country's businesses in the new period, he said.