Despite a strong recovery in seafood exports this year, officials and experts have said farmers and traders need to reconcile their adversarial relationship to meet the sector's potential.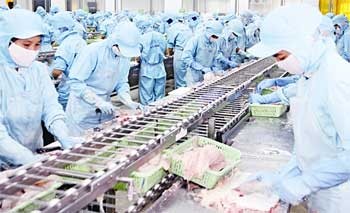 Workers process tra fish for export at Binh An Seafood Joint Stock Company in Ho Chi Minh City. Farmers and businesses need to stop trying to undercut each other, officials say. (Photo: SGGP)
Vietnam shipped out US$350 million worth of fisheries products in April, taking the total export turnover in the first four months of the year to $1.2 billion, up 17.4 percent from a year earlier, the Ministry of Agriculture and Rural Development (MARD) reported.
At the first Vietnam Seafood Festival in the Mekong Delta city of Can Tho late last month, domestic businesses signed several significant seafood exporting contracts, expecting to add to the boost in seafood exports later this year, the ministry said.
However, the industry's links between breeders, processors and exporters were too week to be considered "sustainable," said Tran Thien Hai, chairman of the Vietnam Association of Seafood Exporters and Producers (VASEP).

He said that both sides were consistently trying to get the best of each other rather than working together for the benefit of all.
For instance, he said, when the price of seafood in on the rise, breeders tends to break contracts they have signed with their partners by selling their products to third parties who can offer higher prices.
And when prices drop, some businesses seeks ways to delay their purchases, causing losses to breeders, he said. 
 
Dr. Duong Nghia Quoc, deputy director of the Dong Thap province Department of Agriculture and Rural Development, pointed out that despite the export recovery, many aquaculturists were still facing big losses.
The price of tra fish dropped suddenly to only VND15,500 per kg recently while production costs have soared to VND16,000-16,500 per kg due to an increase in feed prices.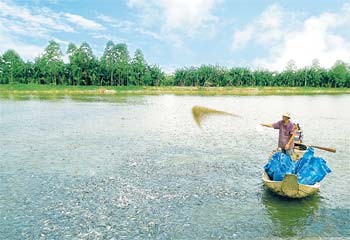 A farmer catches fish on a river in the Mekong Delta. Vietnam has registered a year-on-year growth of 17.4 percent in seafood exports so far this year. (Photo: SGGP)
Vo Van De, a breeder of tra fish in Thot Not District, Can Tho City, said most breeders rely on banks loans to run our business through an 8-month breeding season.
"But when the harvest comes, traders pay only 30 percent for their purchase and delay the payment for the remaining 70 percent until one or two months later.
"By imposing deferred payments, traders obviously appropriate our capital," he complained.       
Mr. Hai said the most important issue is how to "get breeders, traders and exporters in a same boat so that they can improve their cooperation and overcoming such troubles."
"Only when such coordination is set up can the fisheries sector develop sustainably," MARD Deputy Minister Luong Le Phuong said, adding that the ministry plans to streamline all operations in the fisheries sector, from breeding, processing and exporting.
The ministry asked agencies concerned to regularly inspect processing plants and suspend any plants that commit trade fraud or fail to meet seafood quality standards.
It also called on exporters to contact importers for updated information on demand to better regulate the output and quality of seafood products for export.