Many seafood businesses have voiced their concerns about difficulties they face in the implementation of news regulations on seafood issued by the Ministry of Agriculture and Rural Development (MARD).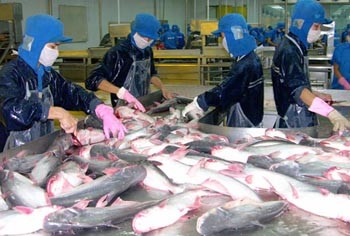 Workers process Tra firsh to export at a company in the Mekong Delta
The new legislations, which have taken effect from September 1, are Circular 25/2010 that guides the food hygiene and safety control for imported foodstuffs of animal origin, and Circular 06/2010 that specifies regulations on quarantine for seafood and seafood products.
At the meeting of the Vietnam Association of Seafood Exporters and Producers (VASEP) in Ho Chi Minh City September 6, many seafood exporters said they would fail to fulfill orders from foreign partners due to insufficient supply of imported materials for seafood production.
Circular 25 stipulates that seafood materials must be firstly quarantined at the departure place before being imported into the domestic market. Without certificates of food hygiene and safety, seafood materials are not allowed to be brought into Vietnam.
Meanwhile, many importers said it is hard to obtain such certificates, since in many cases seafood materials are bought not from the ships that do not belong to the countries of origin of such seafood materials.
Therefore, the Circular has caused many difficulties to most companies that import materials for processing sea products for export, many importers said.
Moreover, many countries whose seafood materials are imported by Vietnamese businesses have no such agencies that are similar to the National Agro-Forestry-Fisheries Quality Assurance Department (Nafiquad) of Vietnam, so importers cannot obtain such certificates as required by the MARD.
Regarding Circular 06, many seafood businesses also said the combination of terrestrial animal products, like pork and chicken, and aquatic animal products into one group for control is unreasonable.
VASEP vice chairman Phan Thanh Chien said the association has repeatedly proposed the MARD to take measures to remove troubles to importers of seafood materials for processing products for export but the ministry has yet to take any actions.
If Circular 25 is continued to be enforced, domestic exporters will lose competitive advantage to their rivals in several countries, including China and Thailand, Mr. Chien said.