Although the export turnover of seafood from Vietnam has increased marginally year-on-year, breeders have continued to suffer losses each year while several businesses have been operating perfunctorily or even shut down.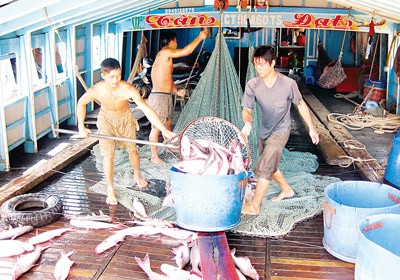 Despite increase in export turnover, seafood breeders and businesses have been making losses (Photo: SGGP)
According to the General Department of Vietnam Customs, Vietnamese seafood export turnover reached US$3.95 billion in the first eight months of this year, a slight increase from $3.8 billion in the same period last year.
However, several seafood breeders and businesses have suffered bad losses.
Nguyen Khac Phuc, a pangasius breeder in Hong Ngu Town of Dong Thap Province, said that the price continued to fall over the last few days, causing him a loss of VND2,000-4,000 a kilogram.
Nguyen Trang Su, deputy chairman of the People's Committee in Hong Ngu District, said that pangasius breeders have suffered consecutive losses this year due to drop in price and low consumption.
At present, the price is about VND20,000-22,000 a kilogram for the fish while the cost price is VND24,000 a kilogram.
Shrimp crops too have been stricken by diseases which have killed shrimps in masses.
Breeder Pham Van Quan, from Cau Ngang District in Tra Vinh Province, said that he bred more than 400,000 shrimps but they all died within one month, leaving him to face a loss of VND150 million (US$7,000).
Several households in Ben Tre, Soc Trang and Ca Mau Provinces have also suffered severe losses due to diseases.
As authorities still have to determine cause of these diseases, farmers dare not continue breeding.
The Vietnam Association of Seafood Exporters and Producers said that since the beginning of the year, businesses have met with difficulties such as capital shortage and low demand in markets.
Only 30 percent of processing plants are operating at 70 percent of their capacity over the last several months.
Fifty percent operate at 30-50 percent of their capacity and 20 percent have shut down.
Nguyen Van Dao, director general of Go Dang Company, said that seafood businesses were established far too easily. Several enterprises in fields like real estate, tourism and rice invested in seafood processing plants as they thought it was a profitable field.
This trend to jump on the band wagon led to unhealthy competition, poor management and low quality produce.
Most seafood businesses lack sufficient capital or access to bank loans after tightened credit policies. This, combined with high interest rates has killed many enterprises.
Mr. Dao said that authorized organs should tighten management of seafood breeding, processing and export. They should have clear norms on material infrastructure and product quality, which businesses must meet to be allowed to operate. Export prices must also be monitored.