Scientists, producers and farmers met up September 24 in Ho Chi Minh City to seek cooperation on developing raw-material areas for the fruit processing sector.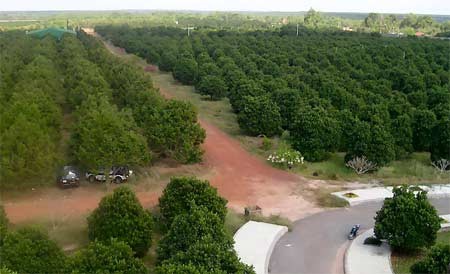 A jackfruit farm in the southern province of Binh Duong (Photo: SGGP)
Participants at the meeting agreed that the weakest phase in agricultural production, especially food processing, is preparation for breeding plants.
 
Though farmers see the need to cultivate plants that meet standards required by the market and processors, they have been unable to find appropriate breeding plants.
 
Meanwhile, scientists have abilities to study and create appropriate breeding trees but no one has ordered them to do.
 
Dr. Nguyen Quoc Binh, deputy director of the Ho Chi Minh City Biotechnology Center, said this is a defect in the country's agricultural sector.
 
Producers should place orders with scientists to create breeding trees such as banana and jackfruit, according to their requirements, he added.
 
Nguyen Lam Vien, general director of Vinamit Company, a leading producer of dried fruits, said there should be the most preeminent breeding plants that can produce economic efficiency for planters and high quality fruits for processors.
 
He said Vinamit would order scientists to create appropriate breeding trees and then give them to farmers to cultivate.
 
Producers have ever ordered farmers to grow fruit trees, and when farmers have asked them to provide breeding trees, they have failed to do.
 
Planters said they usually don't know producers' requirements because most of their produce sold to producers via merchants, and the meeting was a chance for them to meet with producers.
 
Vinamit said at the meeting that it would need 132,000 tons of jackfruit, 21,500 tons of banana, 8,000 tons of sweet potato, 6,000 tons of Indian taro, and 6,000 tons of pineapple in 2011.
 
The company made the statement for farmers to prepare their cultivation, and to ensure that it would have sufficient fruits for its production plan. 
 
Many memorandums of understanding were signed after the meeting between producers and planters.