The price of rice in the Mekong Delta has been steadily rising and has now reached its highest peak of the past several months.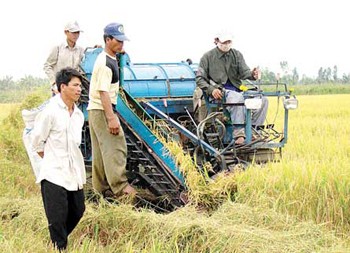 Farmers harvest rice in the Mekong Delta (Photo: SGGP)
In Tien Giang, Dong Thap, Vinh Long provinces and Can Tho City, short-grain rice is selling for VND4,400-4,500 a kilogram.
High-quality long-grain rice is selling for VND4,700-4,800 a kilogram while a kilogram of Jasmine rice is now VND4,900-5,000. A kilogram of aromatic rice, VD-20, is selling for VND5,100-5,200.
Nguyen Van Buon, deputy head of the Hong Ngu District Department of Agriculture and Rural Development in Dong Thap Province said October 25 that farmers in the district have completed harvesting the third rice crop of the year without floods.
The price of material rice varieties for export processing in the Delta have also moved up to VND5,900-6,150 a kilogram since export processing enterprises have seen increased demand while supplies are low.
Experts say rice prices have increased partly thanks to government's ordere to purchase rice in September aiming to keep the grain's prices high to benefit farmers.