Prolonged drought and salt water intrusion have prompted speculation on rice, causing rice price to escalate dramatically in provinces in the Mekong Delta.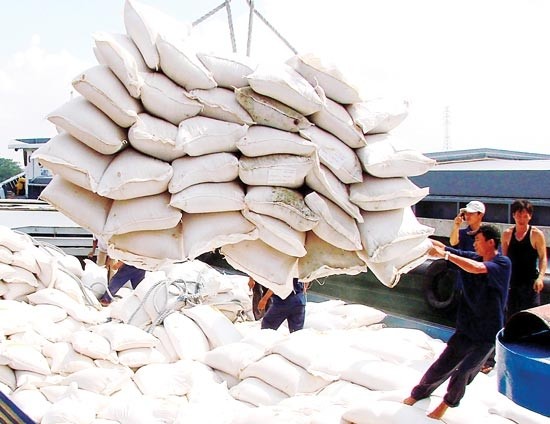 Workers load rice onto a vessel for exporting. (Photo:SGGP)
Figures by the Ministry of Agriculture and Rural Development show that rice exports were at around 1.59 million tons worth US$692 million in the first three months of this year, up 41.6 percent in volume and 40.8 percent in value, compared to the same period last year with Indonesia is the biggest rice buyer of Vietnam.

In March, prices of several farm produce were in rising trend. Particularly, the price of paddy in provinces in the Mekong Delta has risen robustly because China is promoting buying rice from Vietnam. Meanwhile, according to the Vietnam Food Association (VFA), at warehouses in Mekong Delta provinces, dried paddy was at VND5,100-5,200 per kilogram and long-grain paddy was at VND5,400-5,500 per kilogram. First-grade raw rice used to make 5-percent-broken rice was currently at VND6,650-6,750 per kilogram and raw rice used to make 25 percent-broken rice was at VND6,500-6,600 per kilogram. 5-percent-broken rice was around VND7,550-7,650 per kilogram; 15-percent-broken rice was at VND7,400-7,500 per kilogram; and 25-percent-broken rice was at VND7,300-7,400 per kilogram, depending on quality and provinces. Thus, paddy price was VND1,000 per kilogram more expensive than that in late February and about VND2,000 higher than that in late January.

Increasing rice price has helped farmers to make up to some extend the loss caused by drought and saline encroachment. However, many rice exporters, especially ones who signed rice export contracts when rice price was still low, are on a knife-edge.

Mr. Nguyen Van Tien of Angimex Joint Stock Company in An Giang Province said that rice price escalated due to speculation and psychological impact created by drought and salt water intrusion. Fortunately, the Philippines and Indonesia have not signed any new rice import contract or it is unexpected how rice price will climb.

With the current situation, Vietnamese rice exporters have to raise rice price by $5-10 per ton of rice. In comparison with Thai rice, Vietnamese one is about $10-15 per ton higher. According to VFA, although export of rice showed positive signs in the first quarter of this year, Vietnam has lost competitive advantage in cost leadership against the other countries.