The average export price of Vietnamese rice in the first nine months was US$424.24 per ton, up US$16.64 over the same period last year, said the Vietnam Food Association (VFA) at a meeting on September 16, to discuss rice export situation in the last months of the year.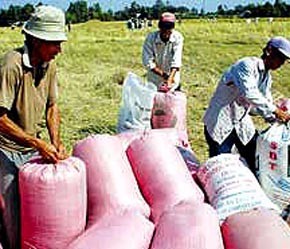 Farmers in a Mekong Delta havest rice (Photo: SGGP)
VFA chairman Truong Thanh Phong said Vietnam exported 5.09 million tons of rice during the first nine months, earning US$2.1 billion, up by 5.86 percent in volume and 10.19 percent in pricing year-on-year.
The present export price of 5-percent-broken rice is US$475, equal to the export price of Thai rice, he added.
The country has total 7.2 tons of rice for export this year, including 5.8 tons produced this year.
Pham Van Du, deputy head of the Cultivation Department under the Ministry of Agriculture and Rural Development, said the country expects to harvest 39 million tons of unhusked rice this year, with 21.3 million tons from the Mekong Delta, up 800,000 tons over last year.
Estimated yield of unhusked rice harvested from late August 2010 to January 2011 is 5.1 tons, he added.
Mr. Phong said demands for rice will rise in the last quarter of the year so export prices might go up.
Tasks have to be tackled now are keeping buying prices of rice from farmers stable until the winter-spring crop, buying entire rice, and ensuring profit for farmers, he added.
He asked Vinafood 1 and Vinafood 2 to ensure a sufficient reserve of rice.
Domestic rice exporters are expected to export about one million tons of rice by the end of the year.