Vietnam has made huge progress in the cultivation, processing and export of rice, the country's Food Association said at a meeting held July 5 to review rice export during the first six months of the year.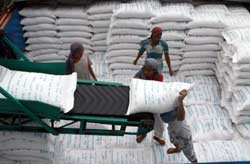 Workers package rice at company Gentraco in Can Tho City (Photo: VNS)
Rice export prices have also increased by US$27 per ton, the association said.
 
It added Vietnamese enterprises exported 3.92 million tons of rice worth more than US$1.8 billion in the first half of the year, a year-on-year rise of 17.5 percent and 24.7 percent in volume and value, respectively.
 
The volume of exported medium-quality rice increased while the quantity of exported poor-quality rice dropped.
 
Un-husked rice harvested from the early summer-autumn crop has sold like hot cakes. Traders have bought as much rice as farmers could harvest.
 
Un-husked rice prices have gone up by VND400-500 per kilogram to VND4,800-6,000 per kilogram depending on rice variety, during the past days.
 
The association said the country might export 6.5-7 million tons of rice this year, therefore, it is unnecessary for enterprises to begin buying one million tons of rice from farmers for storage by July 15 as scheduled.
 
If un-husked rice prices fall to VND5,000 per kilogram following stagnancy in the country's rice export, 80 VFA members will buy un-husked rice from farmers for stockpiling, according to the association.