On January 2, 2015, Parkson Hanoi Co Ltd suddenly shut down Parkson Landmark Keangnam trade center because it failed to get the revenue as planned after three years of operation. Other Parkson trade centers also closed down including Parkson Paragon in District 7, HCMC and Parkson Viet Tower in Hanoi in May and December, 2016.

Recently Parkson Flemington has closed down after eight years of operation in District 11, HCMC. One of reasons for the shutdown is declining sales.
At present, only four Parkson trade centers are still running in HCMC including Parkson Le Thanh Ton, CT Plaza, Cantavil and Hung Vuong. The system has no longer been present in Hanoi.
During nearly two decades of operation in Vietnam, Parkson with the trading model of department store has bridged hundreds of global brand names and Vietnamese consumers.
Since 2011, the situation has changed as Vietnam started opening the door according to WTO commitments and the retail field boomed with the severe competition from many large brand names in the region.
Parkson trade center shutdown marked an important conversion of retail model being decided by consumers' behavior. Department store has become weak in the world.
Some opinions said that the recession has not only occurred in the model of department store but also spread to some traditional trading channels such as supermarkets. A number of supermarket systems have seemed to meet with difficulties with apparently down sales.
Mini supermarkets and convenience stores open 24/7 have attracted lot of consumers. That has prompted supermarkets to upgrade to meet diversified shopping demand in long term.
Time of convenience
Convenience stores supplying food and necessary goods have attracted lot of consumers. Asides from that shopping mall and Omni-channel have strongly developed and been chosen by many families in large cities with advantages of large areas and multifunction from shopping to amusement.
Of investors, Vingroup real estate developer owning many good premises has risen to adjust the playing ground of modern retail in Vietnam.
After three years of coming into operation, VinMart supermarket system and VinMart+ chain were ranked fourth in the list of ten prestigious retailers in 2017 according to statistics by Vietnam Report.
Currently, Vingroup owns nearly 70 VinMart supermarkets and about 1,000 VinMart+ stores in nearly 30 provinces and cities nationwide with the total trading area of over 300,000 squares meters together with a chain of shopping malls for consumers to do shopping and entertain themselves.
Saigon Union of Trading Co-operatives (Saigon Co.op) has focused on investing in Co.opmart supermarkets, Co.op Food and Co.op Smile stores and Sense City trade center. The union has also worked with some foreign partners to speed up modern trading models such as Omni-Channel, shopping mall and mega supermarkets.
Saigon Trading Corporation (Satra) has also fast developed Satrafood convenient stores and Satramart supermarkets.
Last year, Vietnam's retail sales approximated US$129 billion, up 11 percent over 2016. That was a rather high growth rate compared to nations in the region. Vietnam's retail market is estimated to have big potential with population nearing 100 million people. Of these, 70 percent are in labor age and 34 percent lives in urban areas. GDP per capita approximates $2,385 increasing 10 percent.
Hanoi and HCMC are two most developed cities but retail density there is very low compared to big cities in the world so there is much potential for investment and development.
The phase of 2018-2012 is considered to be golden time for the retail market to grow and meet the strong development of amusement demand, modern grocery and fashion. Other services such as gym, fitness centers and cinemas are predicted to expand with higher standards.
Foreign sector broadens invesment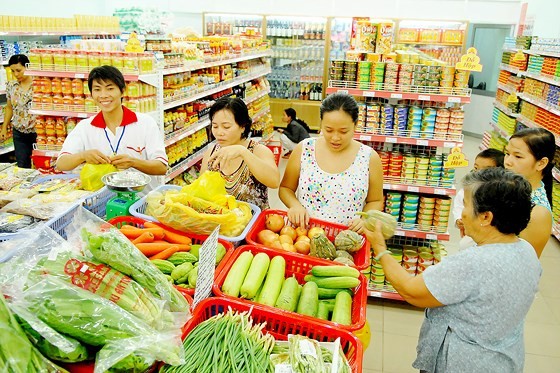 Customers at a convenience store in HCMC (Photo: SGGP)
Foreign investors such as Thai TCC Group and Central Group; Singaporean Mapple Tree and Kepple Land; South Korean Lotte and Emart; Japanese Aeon and Takashimaya have planned to strongly invest in Vietnam to wait in front for the development trend of the retail sector.
Their attendance is expected to contribute in boosting the dynamic of the market and bring domestic consumers more professional products and services through Merger and Acquisition activities and other cooperation deals.
Experts said that foreign sector has many strengths from capital to experience. They now account for 59 percent of modern retail sales. In the field of convenience stores, foreign retailers such as Circle K, Shop & Go, B's Mart, Family Mart and Ministop are leading the market with the store number growth rate reaching 260 percent a year.