The 2007 real estate market is forecast to be thriving after 2 years of being frozen.Deputy Minister of Natural Resources and Environment Dang Hung Vo said in an interview with a reporter.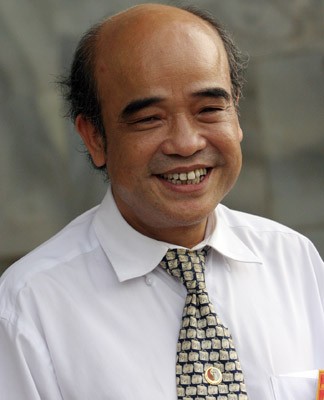 Deputy Minister Dang hung Vo

What do you think about the development of the 2007 real estate market?



D.P Vo: I think it will be very exciting due to two following reasons. Firstly, Viet Nam has officially become a World Trade Organization (WTO) member, the US has approved the PNTR status with Viet Nam, and the Consultative Group (CG) Meetings held in Viet Nam has ensured sound foreign investment in Viet Nam in 2007; all these events show Viet Nam's ability to attract foreign investments is so great, and therefore investments in the real estate market will also rapidly increase.

Secondly, Vietnamese investors are still interested in the stock market due to its high potentials but in my opinion, the stock market will experience certain fluctuations and 'freezing' will appear in the second quarter of 2007 at the latest, and then securities investors will return to the real estate market. Due to these two reasons, it can be forecast that the stock market in 2007 would be very eventful. However, it will also depend on the government's policies to adjust the supply and demand relation.

Some people think that foreign investors in the real estate sector will push up the prices of houses and land. Your opinion, please?

I don't think so. I have reason to say that. House prices here are very high at present, which makes average–income people unable to afford. This widens the gap between supply and demand.

A possible solution is that the government should boost investment in building houses for low-income families and poor people, a business field domestic investors are not interested in due to its slow return on investment. Meanwhile foreign investors with their large investment capital and highly efficient management skills are willing to pour their capital into this field.

Consequently, the house prices will be down if some big investors are willing to risk building some apartment blocks for average and low-income people. The problem lies on the fact that Viet Nam must make encouraging policies for these volunteer investors.

What specifically are these policies, sir?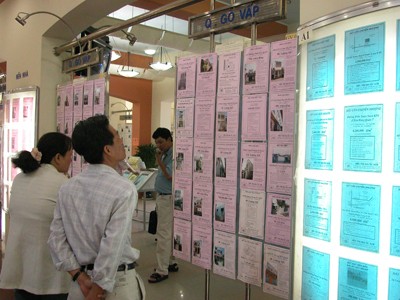 People look at the house price posted in the billboard at banks
Stable legal framework, especially financial policies on the real estate sector must be transparent and stable. Furthermore, rights and duties of foreign investors should be equal to their local counterparts.

The Ministry of Natural Resources and Environment is waiting for the government's approval of the proposal that allows domestic investors to transfer their real estate projects to foreign investors.

However, if that is permitted, foreign investors will still have two disadvantages.

The first is that they can only lease land but can't own or transfer the right of land use. They even can hire land of enterprises but not from individual land-owners. Their rights are therefore not equal to their local counterparts.

Secondly, they can put up land-using right as security for a loan from Vietnamese credit organizations only, not from foreign ones. The government must therefore solve this urgent issue or else it causes a lot of losses in the real estate market.

In addition, the government needs to encourage Build-Operate-Transfer (BOT) projects in technical and social infrastructure development. The government can invest in the field with public budget and then sell the exploitation right to organizations and individuals.

What's your opinion on the trends of building deluxe apartments by local investors?

That trend, I think, complies with the market. The US$1,300-2,000/sq.meter apartments are affordable for high-income people.
Yet, the investors must take the supply and demand law into account. That they can make big profit or not will depend on their sound calculation.
According to an international financial institution's survey, about 60 per cent of Hanoians and Saigonese are of middle class, spending approximately VND7 million a month. Therefore an apartment worth VND1-1.5 billion is affordable for them

I believe such housing blocks with good infrastructure and services will attract more people.