High prices of retailing space in Ho Chi Minh City and the shortage of it are putting retailers under even heavier sales pressure.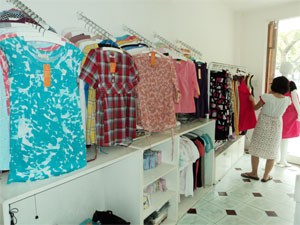 A clothes shop in Ho Chi Minh City (Photo: Minh Tri)
A clothing retailer, who is running shops on downtown streets including Nguyen Trai, Hai Ba Trung and Nguyen Dinh Chieu Streets, said the rent of retail spaces now accounts for 40 to 50 percent of the retail price.
At some places, it is 60 percent, said the retailer who did not want to be named.
Ngo Thi Bau, owner of Foci clothing brand, said it's expensive to rent a space that faces the street.
"But after almost ten years developing the brand, I cannot open a shop in an alley," Bau said.
The retailer said she has been selling only one third of products compared to the same time last year, while the space price is only going up.
Space price is always the biggest concern of retailers and traders who are looking forward to expanding their business or developing their brand, Bau said.
"Yet the retail space rent has increased three times from last year," he said.
Dinh Thi My Loan, general secretary of the Vietnam Retailers Association, said that the high space prices plus low consumption have forced many retailers to raise their prices.
The total value of retail products sold and consumption service earned in the first half this year have jumped around 21-22 percent year-on-year, she said.
But after leaving the product or service prices, value only increased less than 7 percent, which was small compared to around 15-20 percent of the same period in previous years, she added.

Loan expected that the retail value of the year would increase by 6 percent, give and take.
Yet it has been a vicious circle that after the retailer has to raise their prices to get compensated somehow from the high space prices, their sales would decline.
Hung, a fashion shop owner on Nguyen Trai Street, District 1, had to pay more than US$3,000 a month, or VND2.1 million a day.
After raising his prices, sales at the shop have fallen from around 10 to 15 items a day to around 20 a week.
Rare, thus precious

Big commercial malls such as Vincom, Parkson, Diamond, Zen Plaza in HCMC downtown only rent their expensive spaces to known brands, which makes normal retailers unable to find a place for their booths.
A retailer only identified as N. said that she has been selling things around District 1 for more than 20 years, "but it's never been that hard to find a space."
According to many retailers, District 1 is the busiest commercial center of HCMC but they cannot join in.
Bao, a jewelry retailer, has managed to get a spot at Saigon Square No.2 on Ton Duc Thang Street by paying nearly US$10,000 a month.
But the business has not gone well and recently, she had to resell the place at $4,000.
After that, Bao had to rent a house in District 10 to open her shop. The rent is cheaper but she has to spend money informing her old customers and advertising for the new place.
HCMC this year is expected to put three new retailing centers into operation, including The Crescent, Bitexco Financial Tower and The Manor.
The three centers would provide around 36,000 square meters of space.Yet none of them has officially opened their commercial areas yet.