Deputy Minister of Agriculture and Rural Development Le Quoc Doanh said that quarantine works this year will aim at creating transparent and better conditions for businesses to boost fruit and vegetable exports, besides preventing diseases in farming production.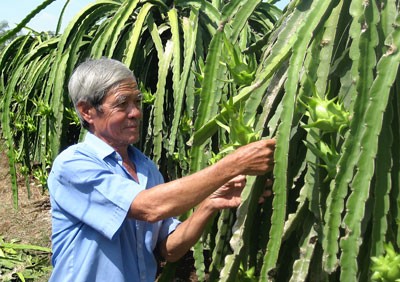 A farmer at his dragon fruit orchard in Long An province (Photo: SGGP)
He made the statement at a conference hosted in Hanoi yesterday.
At the event, the Plant Protection Department under the ministry said last year a landmark in Vietnamese fruit export as it started penetrating into strict markets in the world.
So far, Vietnam has exported over three tons of Thieu litchi and over 100 tons of longan to U.S. market, over 1,200 tons of dragon fruits and 10 tons of mango to Japan.
Australia has officially opened its door for Vietnamese fresh litchi, a total of 16 consignments with 28 tons have been shipped to the country as of now.
The Ministry of Agriculture and Rural Development said that fruit export hit the record turnover of US$1.83 billion last year, up 23.4 percent over 2014.
Many types of fruit specialties, vegetables and other high-quality farm produce will continue conquering new markets this year, it said.