Many supermarkets in the city such as Co.opMart, Big C, Lotte mart, Metro said after the 2015 sales promotion month program launched with attendance of over 2,000 enterprises, purchasing power at the markets has increased.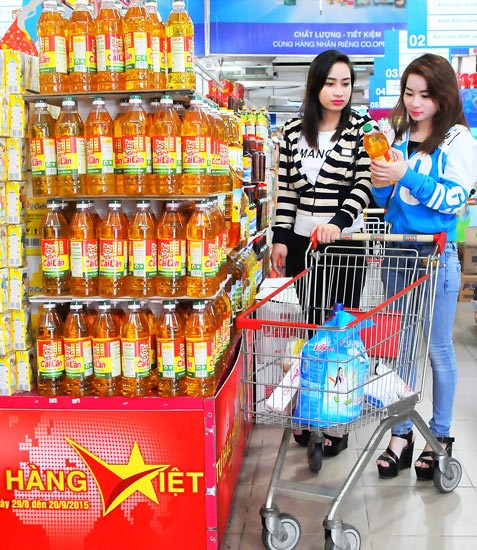 Customers choose Vietnamese goods at Co.opMart -Photo: SGGP
Representative of Co.opMart said purchasing power at its system increased over 60 percent at weekend days. Mr Vo Hoang Anh, Marketing Director of Co.opMart said nearly 600 suppliers joined the program of "Proud of Vietnamese goods", offering discounts of up to 49 percent on many essential products.
Mr Ho Quoc Nguyen, representative of Big C said purchasing power at Big C also increased 20 percent compared to previous days. Sales of fresh goods and dried foods remained high. He added suppliers hoped through this promotion program their capital would be able to pay back and they have to plan for year-end business strategies.
While traders at traditional markets said purchasing power has remained unchanged. They said they hoped that sales would surge after national day.