According to sand traders, the last price increase was partly caused by the ban on sand exploitation in many places while construction firms speeded up progress to enter the season of work acceptance and contract settlement in the second quarter.

Taking advantage of that, sand exploiters have joined hands with barge owners to rocket the price up, creating a sand price fever.
Because of rainy weather in the third quarter, contractors have operated perfunctorily to wait for payment. Therefore, prices have reduced and been expected to move up again at the end of the year.
On July 4, the price swung from VND550,000-600,000 a cubic meter of yellow sand bought directly from barges. Black sand was priced from VND220,000-250,000.
Mr. Liem, owner of a sand shop in Nha Be district, said that the price reduced 20-40 percent compared to the level during peak construction time a month ago.
Mr. Le Quoc Huy, deputy director of Hoa Binh Construction Joint Stock Company, said that the sand increase did not affect their construction works because contractors had benefited from down steel prices. Therefore, the company has so far not raised its apartment prices.
According to the Ministry of Construction, sand for construction demand approximated 92 million cubic meters in 2015 and surged to 131-140 million in 2016. It is estimated to reach 182-195 million cubic meters in 2020. Meanwhile, the country's natural sand resource is about 2.3 billion cubic meters, meeting 60-65 percent of big cities' demand.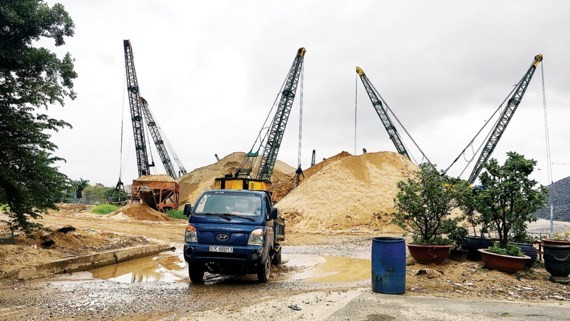 A sand gathering spot in HCMC (Photo: SGGP)
As sand supply has gradually been depleted, the ministry has recently sent a document to the Ministry of Industry and Trade, the Ministry of Finance and the Ministry of Natural Resources and Environment, asking them to give opinions about import of sand for construction to reduce the pressure on local supply.
Dr. Nguyen Quang Cung proposed in long term to consider replacing natural sand with artificial sand milled from limestones and basalt stone, which are quite abundant in Vietnam.
In fact, some works have used artificial sand for the last couple of years comprising national key works such as Son La and Lai Chau hydropower plants. Initial estimations show that they all ensure technical designs and quality with economic efficiency equal to or higher than normal construction sand.