Local production units have raised their concern at the rise in power rates by 18 percent.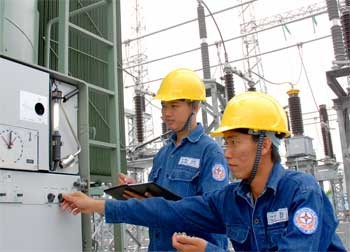 Electricians check a power panel in Ho Chi Minh City
The units were already feeling crippled by the high interest rates on loans and now the hike in electricity rates will add to their difficulties and woes.
 
Nguyen Van Be, general director of Saigon Linh Trung Export Processing Zone Joint Venture Company, believed that the economy in general and production units in particular will certainly suffer a setback if the power rates are raised and if the power is in short supply.
 
He thought that an 18 percent hike seemed too high,  adding that the price should be hiked gradually, beginning with a one digit figure only otherwise this would affect industrial production en mass.
 
Mr. Be stated that to cope with the price hike and short supply of power, the company is encouraging enterprises in the export processing zone to switch production from week days to Sundays.
 
However, this change will inconvenience the units as workers will have to be paid double their salary for working on a holiday. Labor productivity will also reduce as workers will have to readjust their body-clocks.
 
Phan Anh Viet, finance director of Liksin Corporation, said the hike will have great impact on the company in many important aspects, such as production costs.
 
The company pays an average of over VND16 billion annually for power consumption. If the price is increased further, the company will have to pay another nearly VND3 billion. This figure seems prohibitively high.
 
The power price hike will also push up prices of a mass of other materials and services as well.
 
Collectively, the high foreign exchange and loan interest rates along with the potential hike in power price coupled with a short power supply is proving very worrisome for production units.
 
Mr Viet added that Liksin was trying to cope with the situation by cost cutting in other sectors and introducing improved production techniques to save electricity.
 
Nguyen Truong Hai, deputy director of Vinh Tuong Industrial Corporation, said that power costs had accounted for 2 percent of the company's total production costs. Therefore, the power price hike would surely push up the cost price of company products.
 
The hike would also cause a rise in steel prices and 90 percent of raw material used for Vinh Tuong products were made from steel.
 
Do Thanh Hung, general director of Viet Trung Paper Packing Company, said that the hike would not just affect production but also people's lives. Therefore, as an incentive the company has planned to increase its workers salaries.
 
He thought the power price should be raised by only five percent because enterprises would have to bear a very heavy financial burden.
 
At a meeting on February 15, the Ministry of Industry and Trade proposed a price hike which the Ministry of Finance along agreed.
 
The Finance Ministry is of the opinion that if the power price is increased by 18 percent, the consumer price index would go up by about 0.45 percent.
 
Industries which would be affected will include steel, cement and fertilizer.