Ho Chi Minh City should continue to pioneer the promotion of quality services by holding discussion groups to select those enterprises that provide the best services, Politburo member Truong Tan Sang says in a letter sent to the city's leaders.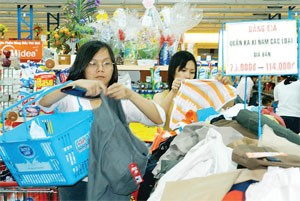 People rush for shopping at Co.opMart supermarket on the big sales month in Ho Chi Minh City
He says the country's economy is comprehensively integrating into the world. Previously it was mostly agriculture but these days the Vietnamese economy is much more about industry and services. The growth and importance of the latter can best be seen in Ho Chi Minh City.
 
Ten year ago, the former HCMC party chief recalls, the city began doing surveys to determine which Vietnamese goods consumers preferred and to initiate the "High Quality Goods" awards to improve product quality through consumer pressure and the dictates of the market.
 
There have been plenty of local surveys, Mr. Sang goes on to say, and now is the time to start doing consumer surveys abroad to determine which Vietnamese services are popular outside the country, especially in those lands that began using Vietnamese services after the nation joined the World Trade Organization.
 
"I appreciate the intention of employing prestigious international consultants to do the market surveys, an intention that proves we realize the importance of professionalism in this regard," he says
 
He stresses that nothing is better than comments from the consumers themselves. It's they who determine a product's fate and whether a company will grow.
 
"Over the past ten years, the city has supported enterprises nationwide to strengthen their competitiveness through the "High Quality Vietnamese Products" program. The time has come to improve the quality of services, thereby making great contributions to the country's development," Mr. Sang concludes.