On October 30, concluding the Government's regular meeting in October this year, Prime Minister Nguyen Xuan Phuc stated that the country's economy had hit bottom in the second quarter and was making a V-shaped recovery in the third quarter. Despite severe flooding, the growth rate will likely reach 2-3 percent this year.

Currently, the International Monetary Fund (IMF) assesses Vietnam as the only positive economy in the ASEAN with gross domestic product (GDP) growth of 1.6 percent and 6.7 percent in 2020 and 2021, respectively.

With this increase, the scale of Vietnam's GDP in 2020 is estimated at US$340.6 billion, surpassing Singapore with $337.5 billion and Malaysia $336.3 billion, ranking fourth in Southeast Asia. Standard Chartered Bank forecasts that Vietnam will achieve a growth of 3 percent in 2020 and 7.8 percent in 2021. The World Bank forecasts that Vietnam's economy will grow 2.5-3 percent in 2020.

However, the Prime Minister noted that these above forecasts are for the country to have more encouragement, instead of being subjective, because the pandemic develops complicatedly around the world. There are still many risks and challenges from the outside, such as diseases, trade and technology tensions, and global financial instability, and domestic natural disasters and floods.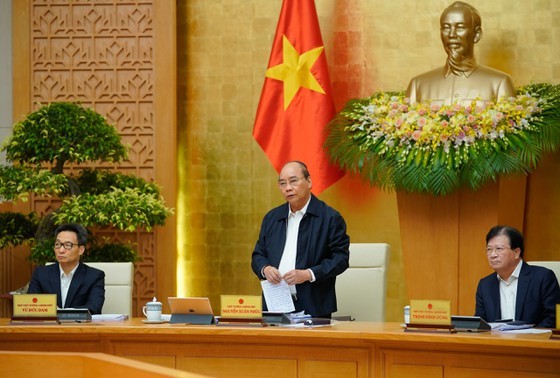 Prime Minister Nguyen Xuan Phuc speaks at the Government's regular meeting in October, 2020. (Photo: SGGP)
As for the upcoming tasks, the Prime Minister directed ministries, department, and provinces to focus on surmounting the consequences of severe natural disasters in the central provinces as soon as possible, quickly stabilizing people's lives, prioritizing saving lives, and not letting people get hungry and homeless.

Along with that, the country should not be subjective and neglectful and should not let the disease recur. The exit and entry activities must be strictly managed at the border gates, and medical supervision must be applied for people entering the country.

The PM directed to promote the program to stimulate domestic tourism, continue to clear the export to key markets and accelerate the disbursement of public investment capital, including ODA. The key provinces, especially Hanoi and Ho Chi Minh cities, need to be an example in terms of production, budget collection, and public investment disbursement.

The Prime Minister entrusted the Ministry of Planning and Investment together with the Ministry of Finance, the Ministry of Labor, Invalids and Social Affairs to take the lead in further promoting the removal of problems, speeding up the current support packages, at the same time, study and propose an appropriate second supplementary support package. The Ministry of Labor, Invalids and Social Affairs needs to start implementing Resolution No.154 and Decision No.32 to support enterprises to access loans for salary payment fast and effectively.

The Prime Minister also asked all levels and industries to have plans to accelerate growth in the last two months of this year and best prepare for next year.