Though Vietnam's pharmaceutical market is considered a high-growth sector, still local firms have little hold of this market and foreign companies are not interested in setting up manufacturing facilities, creating a high dependency on imported drugs.
A report on the pharmaceutical market for 2013 by UK-based Business Monitor International shows that Vietnam's pharmaceutical market saw revenue of US$1.1 billion in 2008 and $1.2 billion in 2009. This year, revenue is expected to rise to $1.7 billion, to reach an annual growth of 25 percent, making Vietnam a market with strong growth potential in the world, in both pharmaceutical products and health care services. This figure will possibly reach $5 billion in 2015.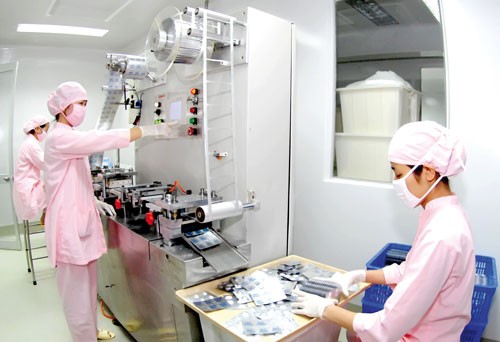 Pharmaceutical manufacturing in Vietnam remains weak. (Photo: SGGP)
However, local pharmaceutical manufacturers merely met 40 percent of demand while the rest 60 percent was totally dependant on imports. In 2008, the industry spent $923 million on imported medicines and by 2013 medicine imports are forecast to touch $1.4 billion.
According to the Ministry of Health, there are about 185 pharmaceutical companies across the country, of which, 100 produce new medicines, 80 produce oriental medicines, and five produce vaccines and biologic medicinal products. These companies were just able to produce normal specialty medicines while high-value medicines, such as anesthetic, specific antidotes, blood products, and anticancer drugs have all to be imported from foreign countries.
Under WTO agreement, since 2009, the industry has opened doors to foreign pharmaceutical companies to establish branches and manufactories in Vietnam. However, the development of local pharmaceutical industry has not come up to expectation with the number of companies investing in the pharmaceutical market only accounting for 30 percent while 70 percent of foreign companies licensed to operate in Vietnam importing medicines.
Foreign-invested projects in Vietnam also produce only normal medicinal products or formed joint-venture to provide logistics services for pharmaceutical industry instead of producing specific medicines. As a result, the country still has to spend billions of dollars to import medicines every year and barely has a chance to approach international pharmaceutical manufacturing technology.
Foreign companies said that competitiveness of Vietnam in pharmaceutical market remained weak compared to countries in the region, such as Indonesia, Philippines, and Singapore. Thus, they will not receive much benefit from building pharmaceutical factories in Vietnam.
For instance, when producing medicines, foreign companies pay most attention to local material source because ingredients account for nearly 60 percent of overheads, but in Vietnam, 90 percent of ingredients for pharmaceutical industry are imported with import tariffs much higher than other countries.
Therefore, although the British multinational pharmaceutical company, GlaxoSmithKline, wanted to become a wholly foreign-owned company in Vietnam, the company has just coordinated with local companies instead of manufacturing on its own.
Similarly, despite the appeal of Vietnam's pharmaceutical market, Actatis was just expanded its distribution network and is seeking partners to coordinate in manufacturing at cheaper cost price.
Hence, until now, the pharmaceutical industry only has a foreign-invested project by United International Pharma (UIP), a subsidiary of Unilab, the largest pharmaceutical company in Philippines, which built a PIC/S-GMP factory in Binh Duong Province.
The hesitation of foreign companies has also caused difficulty for some local firms. Although about 55 percent of medicines produced by Imexpharm were distributed via hospital channels, the company has been facing challenges on price as it upgraded its production line and used high quality ingredients, so cost price went up higher.
As for the Imexpharm Penicillin project in Binh Duong Province, the factory has a capacity of 10 million bottles annually; however, as consumption was poorer than expected, it merely produces 3 million bottles per year.
Moreover, it is hard for the local pharmaceutical industry to develop when faced with preferred behavior towards foreign medicines by consumers.
According to a survey by the Department for Medical Examination & Treatment Administration, domestic medicines used in central hospitals only account for 12 percent; provincial and town hospitals were nearly 34 percent; and lower level hospitals were about 61 percent.
So, most pharmaceutical companies were not confident in producing high quality medicines, leaving imported medicines dominating the market. This may pave the way for counterfeit and faux medicines to infiltrate into the domestic market.