Ministry of Finance released information on the financial state of the fuel trading sector, evening of November 25.
Minister of Finance Vuong Dinh Hue affirmed that the Vietnam National Petroleum Corporation or Petrolimex, the country's largest fuel distributor with more than 60 percent market share, showed profits during the period 2008 to 2010.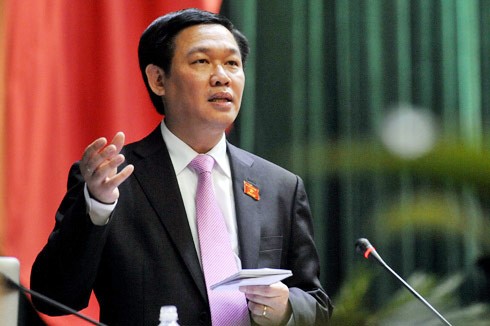 Minister of Finance Vuong Dinh Hue
Hue said Petrolimex posted a profit of VND913.7 billion (US$43.8 million) in 2008, of which VND642 billion came from fuel trading activities.
The distributor earned VND642 billion in profit from fuel trading in 2009, while the total profit was VND3.2 trillion.
Hue said that fuel trading activities hit Petrolimex with a VND172-billion loss in 2010, but still posted a profit of VND486 billion in other business sectors.
According to a report by a foreign audit company Deloitte, Petrolimex enjoyed profits during the 2008-2010 period.
Deloitte said Petrolimex had enjoyed profits, citing audit reports of the three-year period between 2008 and 2010.
But since Petrolimex has not released details about their profits and losses in particular sectors of their operations, the public seem to have been duped into thinking that the company has made profits from fuel trading, the report explained.
Petrolimex actually incurred losses from oil and gasoline trading.
The cause of losses are attributed to Petrolimex paying all levels of agents high commissions and to the fluctuating foreign exchange rate between the VND and US$.
The Ministry of Finance publicized the audit results of some fuel distributors to see if the current fuel retail prices were reasonable.
The report added that there would never be any losses in the fuel sector if distributors strictly adhered to trade regulations and if the foreign exchange rate had not fluctuated early this year.
The report reiterates that Petrolimex incurred losses in 2010 and posted both losses and profits in 2008 and 2009.
Even in the first half of this year, Petrolimex incurred a total loss of VND1.8 trillion from fuel trading.
The exchange rate difference accounted for VND1.43 billion of the loss, since the dong depreciated 9.3 percent last March. If the exchange rate factor is excluded, the loss is only VND520 billion.
If fuel wholesalers had followed regulations to give commission of only VND600 per liter to dealers, they would not have incurred such heavy losses.