Open and market-oriented policies will put gold under control, says director Tran Trong Quoc Khanh of a gold shop of the Asia Commercial Bank.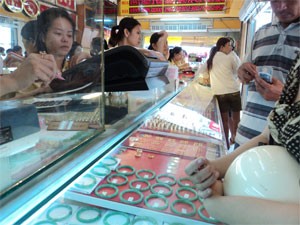 Peopel rush to sell gold jewelries at a HCMC-based gold shop after the precious metal constantly hit llifetime highs (Photo: Minh Tri)
"Vietnam's gold follows the global move. Yet there is still a gap between them as the domestic and international markets are not connected with each others," Khanh says in an interview with SGGP Dau Tu Tai Chinh Newspaper.
Legal documents having been released recently show the government restricts gold trade although it still continues to recognize the right of citizens to have gold holdings, Khanh says.
 
Vietnam has already forbidden banks from lending gold for the production and trade of gold bars since October last year. The new rule is an attempt to eliminate the role of gold as a means of payment in Vietnam, the central bank said.
While the central bank has already ruled out any ban on gold bullion production and trading, it does plan to tighten its control over the gold market.
Last year, authorities shut down about 20 gold trading houses run by banks and financial firms, fearing that their heavily leveraged operations were too risky.
The State Bank of Vietnam has asked the Ministry of Finance to impose a 10 percent export tax on jewelry that has more than 80 percent gold content. The tax currently applies to only jewelry exports that are 99 percent gold.
According to the central bank, some traders have reprocessed their jewelry products to have gold content of less than 99 percent in an attempt to avoid the tax. As a result, it's necessary to introduce a new rule to stop the practice.
"Many gold traders have tried to lower their gold content to be eligible for a zero tax rate, which will surge production costs by 20 times," says Khanh.
Gold export helps narrow trade deficit and raise foreign currency earnings, he notices.
Vietnam exported around 24 tons of gold, mainly in the form of jewelry, in the first six months of this year, according to the General Department of Customs.
According to the General Statistics Office, the export of precious stones and metals hit US$1.027 billion in the first half of 2011.
Experts worry that the wide deficit between domestic and global gold prices will encourage smuggling.
Khanh proposes that the government should set up gold export-import policies, which connect the domestic market with global ones.
"Without an official export-import market, the government will struggle to curb gold smuggling," he says.
Khanh also says that the increasing gold price will result in "indirect impacts" on inflation although Vietnam's consumer price basket does not include the precious metal price.
Therefore, the government should release "open and market-oriented policies" on gold trading, he suggests.
The price of gold in Vietnam jumped to an all-time high of VND40.15 million a tael (1.2 ounces) on July 30 as global price surged to record on demand for an investment haven amid mounting concerns on the US debt impasse and signs of a faltering economy.