The Ministry of Finance, Ministry of Industry and Trade have decided against increasing gasoline retail prices as well as the import tariff on some petrol products including diesel and kerosene.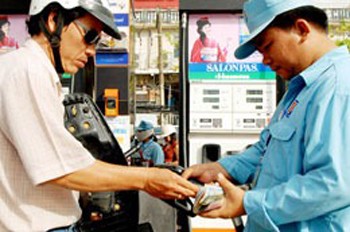 File photo shows a motorcyclist in Vietnam
The A92 gasoline price is currently VND21,300 per liter, that of kerosene is VND20,800 and the import tariff on engine oil and kerosene is five percent, as announced by the Ministry of Finance Friday.
After the Finance Ministry hiked the import tariff on diesel and kerosene on June 10, global crude oil prices have dropped but petrol product price have not, though mazut oil prices showed an increase.
Between June 6 and July 7, the average price of crude oil in the global market has decreased by 4.95 percent and gasoline prices have dropped by 0.96 percent.
The drop was 0.52 percent on engine oil and 0.84 percent on kerosene. Only the price of mazut oil has moved up by 0.91 percent.
Recently, global petrol prices have climbed up again, especially on July 7 when crude oil prices closed at US$99 a barrel. The prices of other petrol products also saw an increase.
Current gasoline prices in Vietnam are lower than in neighboring countries by about VND4,048-5,225 a liter. Diesel prices are also lower by VND2,750-5,287 a liter.