Upon Viet Nam's entrance into the World Trade Organization, the number of individuals registering to establish companies has dramatically increased at the Ho Chi Minh City Planning and Investment Department.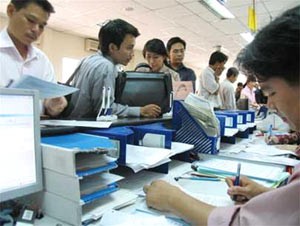 People register to establish companies at the HCMC Planning and Investment Department
An officer of the department said this is a good signal as those registering have expressed confidence in the opportunities available in this broadened international business environment which only ten years ago seemed unimaginable.
 
Since the beginning of the calendar year, some 12,727 Viet Nam enterprises have been established, a year-on-year increase of 23%. Another 3,571 enterprises have registered to open branches or representative offices, an increase of 38%. The total registered domestic capital amounts to almost VND 30 trillion (nearly US $2 billion).
 
The HCMC Planning and Investment Department improved their website to make it more user-friendly for online registration. This measure has also helped to increase registrations. Online registrations now account for over 50 percent of this year's registrations.
 
The department also has their IT workers working to reorganize their network to connect them with the networks of customs offices, police, and the HCMC Statistics Bureau to streamline their efforts and have greater post-registration management.