The new United – the world's biggest airline coming out from the United-Continental merger – is focusing on bringing the leading airline's new advantages to customers worldwide, including the Pacific region and Vietnam, said a United vice president.
American carriers United and Continental merged in October 2010, but are flying independently as subsidiaries of United Continental Holdings until they receive a single operating certificate from the US Federal Aviation Administration, expected late this year, said James Mueller, Vice President Asia/Pacific for the new United.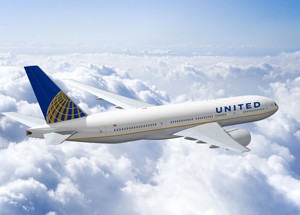 (File) New visual brand identity for the new United
He was speaking at a meeting with reporters in Ho Chi Minh City July 14, during his Vietnam working trip.
The new United offers customers an enhanced travel experience, combining the best products and service each carrier has to offer, according to Mueller.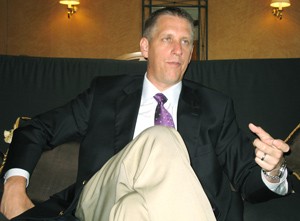 James Mueller, Vice President Asia/Pacific for United, gestures as he gives a meeting with reporters in Ho Chi Minh City on July 14, 2011 (Photo: Tuong Thuy)
One of the new airline's primary assets is its global route network, including world-class international gateways to Asia, Europe, Latin America, Africa and the Middle East with non-stop or one-stop service from anywhere in the US.
Mueller said the new airline currently has hub locations in 10 cities, with nine in the US and Tokyo of Japan. The US hub cities are Chicago, Cleveland, Denver, Houston, Los Angeles, New York, San Francisco, Washington, and Guam.
Travelers began experiencing a more unified product in the spring of 2011 as United and Continental began to align key customer services, marketing activities and airport process, according to the new airline.
When the merger was announced last year, the combined company chose the United name and headquarters in Chicago and Continental's logo. United dropped the iconic Double U logo and went with the Continental spinning globe.
It has repainted many of its aircraft with the new design, said Mueller.
He said his Vietnam working trip was among efforts to further strengthen United's position with customers in the Asia Pacific region.
"Asia-Pacific is currently a key driver of global growth," said Mueller.
United Airlines operates daily direct flights between Vietnam and the US via Hong Kong, with Ho Chi Minh City being a destination. The service was launched in December 2004, making United the first American carrier to fly to Vietnam since 1975.
In June 2009, Delta Air Lines became the second US airline to fly to Vietnam, with flights HCM City operated by its wholly subsidiary Northwest Airlines. However, the service was stopped in March 2010.
Mueller said, "Vietnam is a key market and we see a lot of opportunities here. We're happy with our service here.
"We've seen increasing numbers in both tourist travelers and business travelers. More and more business travelers come as the United States has strengthened investment in Vietnam."
However, the new United will change aircraft in the Hong Kong-Ho Chi Minh City route, effective on October 30, 2011. United Airlines/Boeing 747 planes will be replaced with Continental Airlines/ Boeing 737 aircraft.
This June, United officially named TransViet as the general sales agent in Vietnam, responsible for selling all United products in the country.
Mueller said the two sides have a close relationship and both are committed to working with each other to boost business in Vietnam.
As for new routes, Mueller said United planned to begin new, four-times-a-week service this fall between Guam and Japan's Okinawa, as well as daily service between Narita in Tokyo and Hong Kong.
The new United is taking delivery of the new Boeing 787 Dreamliner planes for its flights worldwide, added Muller.
As for frequent customers, the combined airline says Continental's OnePass and United's Mileage Plus still remain separate frequent flyer programs. The two carriers are in the process of aligning the program's to create a single one, and will fully combine the two programs by 2012.
A United statement on June 29, 2011 from Chicago said Mileage Plus would be the loyalty program for both carriers beginning in 2012. Therefore, OnePass will end on the last day this year. United will enroll OnePass members in Mileage Plus and deposit into MP award miles equal to their OP award miles balance.