After a 50 percent decrease in export price of rubber and an inappropriate increase in tariff, many rubber companies have been left with little choice other than to shut down completely and lay off all workers.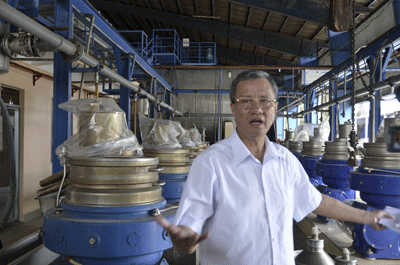 Nguyen Quang Hop of Hung Thinh Company said they have shut down after the new tariff was announced (Photo: SGGP)
Five years ago, the Import-Export Joint Stock Company in the southern province of Binh Phuoc invested in eight German-made centrifugal machines for producing rubber sap in its factory, at a cost of nearly US$1.5 million.
The factory was running successfully, producing more than 50,000 tons of rubber for export each year and bringing in a turnover of $200 million in 2011.
However, circumstances changed in 2012 and the factory has now shut down with all the workers laid off.
Dong Minh Toan, the company's director said the factory shut down after the Ministry of Finance issued a new tariff of 3 percent on latex and compound rubber products.
In addition, the government issued a tax for environment, pushing up prices of products and deterring exports.
With the new tariff policy of 3 percent, products in the local market increased by $100 a ton while selling price was $2,200 per ton, a decrease of 50 percent compared to the same period last year.
Accordingly, Vietnamese rubber cannot now compete with Malaysian, Thai and Indonesian rubber, hence enterprises find production unaffordable.
With hundreds of companies having to suddenly shut down, thousands of manual laborers have been laid off, said Toan, resulting in a loss of valuable foreign exchange for the country.
Hung Thinh Company in the southern province of Tay Ninh suffered such a fate. At the end of 2011, the company spent $400,000 for constructing a rubber processing factory with capacity to produce 1 ton of rubber sap in an hour, and employing 50 laborers working a 10 hour shift a day. But when the management heard of the new tariff policy, they closed the factory completely.
Le Ba Tho, head of the Business Division of Tay Ninh Rubber Company, said the company exported around 13,000 tons of rubber sap this year worth VND11 billion ($528,000), therefore they just shifted to producing another rubber sap variety.
The new tariff was applied in December 2011 to give boost to domestic rubber production instead of export of natural rubber. However, enterprises say this tariff is inappropriate.
Tran Ngoc Thuan, chairman of Vietnam Rubber Association, said he sent a document to the two ministries of Industry and Trade, and Finance asking for tariff exemption on latex and compound rubber.
Enterprises call this tariff unfair as exports are suffering at a great cost just to boost domestic enterprises only. The Vietnam Rubber Association has sent a petition to the Ministry of Finance asking for exemption from PE package which does not pollute the environment.