Year 2011 was unlucky for Vietnamese expat labourers working on foreign shores, what with the global economic crisis; impact of Japan's triple disaster of the tsunami, earthquake and nuclear meltdown; 10,000 expat labourers being evacuated from Libya; and South Korea inflicting restrictions on Vietnamese workers' contracts.
However, 2012 may see a reversal of fortune as Vietnam plans to send 90,000 workers abroad, with new employment opportunities opening up in Japan and Libya.
The Department of Overseas Labour said 88,289 workers were sent to 40 countries and territories last year, mostly to the traditional markets like South Korea, Taiwan and Malaysia.
Nguyen Ngoc Quynh, director of the department, said following a trip of Vietnamese Prime Minister Nguyen Tan Dung to Japan, an agreement has been reached to hire nurses and orderlies from Vietnam, creating an opportunity for Vietnamese expat workers to earn higher salaries in highly respected fields of work.
His department is also looking for more seasonal harvesting jobs in farms in Australia, New Zealand, Canada and the European countries.
Apart from stabilizing jobs for expat workers, the government is determined to create more jobs, restructure the labour force and focus on improving living conditions for workers abroad.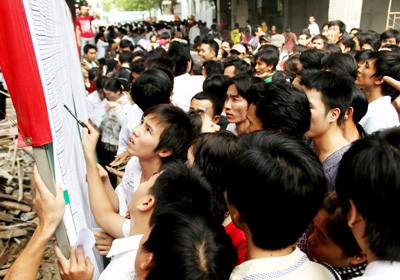 Workers take an examination to test their understanding of the Korean language in Dec 2011
The Ministry of Labor, Invalids and Social Affairs announced that Korean companies would like to recruit 15,000 Vietnamese expat workers this year, 27 per cent more than last year.
The Korean Government will allow 1,000 migrant labourers who had registered for agricultural work to transfer to the construction sector, which is currently facing a huge shortage of workers.
These workers will have to take an examination to test their understanding of the Korean language. The exam will be held in May or October this year. Those living in remote and poor rural areas will be given priority.
Unlike previous years, the test questions will be available online and the expat workers will be asked to abide by contract rules. As per their contract they will be forbidden to work illegally or to change their Korean employer without proper documentation.
Meanwhile, Libya is expected to welcome back foreign workers, including from Vietnam, by June 2012. The turmoil last year forced the Vietnamese government to evacuate more than 10,000 workers.
In Malaysia, Vietnamese expat workers are appreciated for their integrity and hard work and for respecting the local norms and laws.
It is anticipated that in 2012, 140 Vietnamese labour exporters will send workers to Malaysia. Recently, Malaysia received a total 200,000 Vietnamese migrant workers for jobs as housewives, construction workers, servicemen and agricultural labour.
Furthermore, the Ministry has allowed five labour export companies to send 20 Vietnamese workers to the US.
Eighteen workers were sent by the Labour Export Joint Stock Company of Vietnam, Motor Industry Corporation and two from the Transport Ministry's Advanced International Joint Stock Company.
The workers will receive monthly salaries between US$1,300 to $3,500. All are highly skilled, in good health, and scored a minimum 500 in the TOEFL test.
Nguyen Ngoc Quynh, director of Foreign Labour Management Department, said workers were checked thoroughly by the US embassy and consulate before they were granted visas.
Le Van Thanh, deputy director of the Department, said workers had to pay his company a fee between $6,500 and $7,000, which included service charges and a one-way air ticket to the US.
Each worker paid a $15,000 down payment deposit to the company as a deterrent against staying permanently in the US, Thanh said in an interview with SGGP newspaper.
One of the areas in high demand in the US is shipbuilding, he said. The Vietnamese labourers will work in that industry as well as other skilled manual jobs.
According to MoLISA, the total number of expat workers sent to other countries in 2012 will be 90,000. Most of them will be sent to Asian countries and territories, including Taiwan, Malaysia, South Korea and Japan.