The Global G.A.P. certificate for Nam Roi grapefruits of My Hoa Cooperative in Vinh Long Province expired nearly two years but the cooperative still cannot afford US$8,000 for a renewal through lack of potential sponsorship.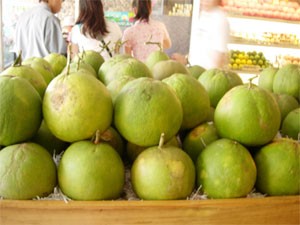 Vietnamese grapefruits on storeshelve at a HCMC-based supermarket (Photo: Minh Tri)
There are 26 over 700 households in My Hoa Commune that apply and reach the Global G.A.P standard with the productivity of 30-40 tons per hectare every year. This is an internationally recognized set of voluntary standards dedicated to Good Agricultural Practices or G.A.P.
According to some among 26 members of My Hoa Cooperative such as Nguyen Van Hai, Nguyen Van Nhe, Nguyen Van Tan and Nguyen Ngoc Dong who adhere to Global G.A.P standard, the application of this standard helps boost the productivity and also selling price of their grapefruits.
The rest households, however, still hesitate about adopting this standard because the difference between prices of standard grapefruits with those of the normal ones is only VND1.000 per kilogram. The investment in cultivation of standard grapefruits is quite high but the number of exportable grapefruits is only 20-30 percent.
It, however, can be denied that the one-year Global G.A.P certificate is an important "passport" for My Hoa Nam Roi grapefruits to access to a competitive market as Europe or USA.
It was officially granted in September, 2008 and ran out nearly two years ago but My Hoa Cooperative can not manage for a $8,000 renewal expense.
The cooperative, therefore, needs assistance from the sponsors them with a certificate renewal. While waiting for the sponsorship, the peasants still try their best in this standard production with the hope for a re-acknowledgement.
In order to seek for help, My Hoa Cooperative has also contacted with many organizations. As Tran Van Sang, head of My Hoa Nam Roi Grapefruit Cooperative said, the expiration of Global G.A.P certificate was informed to the leaders of Binh Minh District and Vinh Long Province more than one year ago.
These offices promised to support the cooperative with $4.000 but the money still does not arrive.
Many cooperators are also appealed for underwritten investment but they then refuse because the low output of grapefruits cannot satisfy the export requirements.
It is essential that the development of Nam Roi grapefruits is supported by the government because the cooperative itself cannot overcome the issue, according to Sang.
Phan Thi Be, chief of Economic Department in Binh Minh District, Vinh Long Province seemed to disagree with Sang's opinion because she thought the responsibility of certificate loss was from the cooperative's board of directors themselves.
To deal with the happening matter, her department together with leaders of Binh Minh District will hold an extraordinary general meeting to re-elect the My Hoa Cooperative's board of directors and find out the most appropriate solution to consolidate the brand name of My Hoa Nam Roi grapefruits.