A team from the Ministry of Planning and Investment will inspect some giant infrastructure projects undertaken by Nam Cuong Group in Hanoi on July 7 and 8 to ensure regulations are being followed and quality is maintained.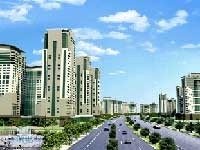 An artist's impression of a street in Hanoi's Ha Tay, where Nam Cuong acts as a contractor
Nam Cuong is building a road in Ha Dong that will link up with Hanoi's Le Van Luong Street and the north-south arterial road in former Ha Tay Province, now part of the capital.
The 18-lane north-south axis road will be 63.62 km long and 150 m wide and have around 10 new townships coming up along it. To be the most massive road in Vietnam, it will cost around US$2 billion to build.
The Hanoi People's Committee said other issues related to building the townships by Nam Cuong Group -- such as the acquisition and right to use land and ensuring financial regulations are met -- would be scrutinized by the inspectors.