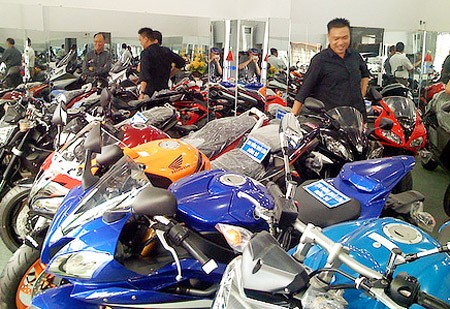 Customers buy motorbikes at a motorbike store. (Photo: SGGP)

Many motorbike stores have raised their prices to squeeze more money out of customers, as the demand for motorbikes has increased sharply as the year ends.
Customers have recently flocked to motorbike markets located in District 3 and District 10's Cach Mang Thang Tam Street; in Hong Bang Street in District 5; in Ly Tu Trong Street in District 1; and the Go Vap crossroads, formerly Chuong Cho crossroads, in the Go Vap District.
Ms. Hang, owner of a motorbike shop in Ly Tu Trong Street, said, "The number of customers that have come to our store to buy motorbikes has strongly increased. On average, I sell around 20 motorbikes a day during the week. This is three to four times higher than normal".
A sudden rise in demand has caused a scarcity of some scooters made by Honda, including PCX, AirBlade, Lead, and Click. This has led to a sharp increase in prices of motorbikes, from the low end of the market, to more luxury class items.
The price of an AirBlade motorbike, fixed by Honda Vietnam is VND32.9 million. However, it was sold around VND42-44 million at some motorbike stores. Meanwhile, an AirBlade motorbike, imported from Thailand now costs around VND67-70 million.
According to a salesperson from a motorbike shop in Ly Tu Trong Street, his store is selling an edition of AirBlade motorbike, whose spare parts are assembled in Vietnam, and its fairings imported from Thailand. The appearance of an imported AirBlade is identical to the local-made one. The only thing that is different is that the imported one has two more lights, and a light switch that can be control more freely.
Similarly, Honda Vietnam offered VND31.9 million for a Lead scooter, and VND32.49 million for a golden color one. However, on the market, customers need to pay the price of VND40-43 million, if they want to buy the motorbike.
The PCX scooter model, which is newly released by Honda, has generated a fever on the market. Thus, a PCX scooter has sold for VND75-80 million, much higher than a rate offered by Honda Vietnam of between VND25-30 million per scooter.
Other motorbike models also edged up to VND1-3 million at some stores. For example, a WaveS110 motor, with disc brakes by Honda, costs VND17-18 million, while the company only offers VND15.9 million. Similarly, a Sirius RL motor, with disc brakes made by Yamaha, was traded at VND19-20 million, while the company are asking VND18 million.
According to the study, the motorbike market has become highly patronized after the Ministry of Finance raises the motorbike plate registration fee for Ho Chi Minh and Hanoi, by VND1-2 million per customers.  Moreover, it is during the peak period of the Tet holidays that customers buy most motorbikes.
Meanwhile, motorbike sellers are blamed for an escalating foreign exchange rate, along with rising interest rates, which has affected a 15 percent increase of the cost of each motorbike. However, after subtracting the value caused by the foreign exchange rate and interest rate increases, prices remained unreasonably high.
The price of PCX scooter, is fixed at Honda at VND50 million per unit. However, most genuine dealers usually inform that this model is not available when customers want to buy it.  Meanwhile, motorbike stores in Ly Tu Trong and Hong Bang streets, have displayed many of this model with prices up to VND80 million per unit.
This clearly shows that some motorbike stores have increased their prices in order to exploit customers, with support from producers and genuine dealers. This is because most motorbike producers only offered prices, for their first level dealers, but do not control prices at the market level. This condition is ideal for motorbike shores to fix prices freely, especially of favorite models, including the PCX and AirBlade.
All state regulations ordered stores to publicize and displayed their prices correctly. However, most motorbike stores do not displayed any price and regulatory authorities rarely inspect or punish them. With this current situation still in place, customers are expected to be exploited for a long time to come.