In the first six months of this year, there were 4,704 newly-established firms and 1,313 firms resuming operation in provinces in the Mekong Delta, increasing the total number of active firms to 50,000. Export turnover of Mekong Delta provinces was $8.74 billion while import turnover was $4.59 billion.
Mekong Delta provinces have attracted 1,609 FDI projects with total registered capital of $22.3 billion in the first half of this year. As for Can Tho City, by May this year, the city has had 82 FDI projects with total investment of around $719.95 million. These projects were invested by investors from South Korea, Hong Kong (China), Singapore, Thailand, the US, Germany and Japan. Of which, Singapore had 10 projects in Can Tho City with total investment of $129.24 million.
According to Mrs. Trang, economy including agriculture, marine economy, garment and food processing industry; natural resources, natural conditions, human and geographical location are main potential factors of the Mekong Delta region. Therefore, total retail sales always post good growth and account for high proportion. Can Tho City and An Giang Province have the highest total retail sales in the region.
In addition, economic growth of the region in the first six months of this year was 7.53 percent, of which, Tra Vinh, Vinh Long and Bac Lieu provinces posted the best growth in the Mekong Delta region.
Mrs. Doan Thi Thu Thuy, deputy head of the Trade Promotion Agency under the Ministry of Industry and Trade, said that the ASEAN has been an important trade partner of Vietnam for years. Of which, Singapore and Malaysia, two members of the ASEAN, are large trade partners of Vietnam.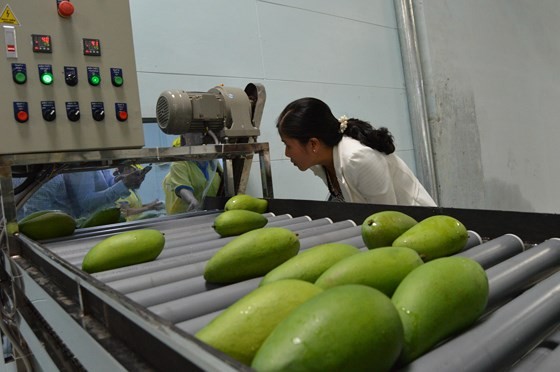 Mango is one of fruits that are exported to the US with production accounting for more than 60 percent of the Mekong Delta provinces. (Photo: SGGP)
Particularly, export turnover between Vietnam and the ASEAN hit $56.29 billion last year. In the first quarter of this year, the ASEAN market was the fourth largest export market of Vietnam with export turnover at $6.3 billion, up 6 percent over the same period last year. It was also the third largest import market of Vietnam with import turnover reaching $8.2 billion, up 10.1 percent over the same period last year.