The Ministry of Trade has advised that sugar refineries and merchandisers should work together to stabilize prices of sugar and sugar canes.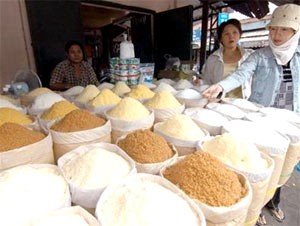 Different classes of sugar at a market
Sugar canes should be traded at a reasonable price of VND360,000-400,000 per ton, and the sugar retail price should be VND8,000-8,500 a kilo.

The ministry forecast the country will need about 1.37 million tons of sugar this year, about 5-6 percent more than last year.

Estimated supply is effecient because 37 sugar factories will be able to produce over 1.1 million tons. Besides will be about manually-made 150,000 tons supplied by small establishments and sugar in stock.

This year, Viet Nam is forecast not importing sugar like in 2006, in which import of about 300,000 tons of sugar was allowed due to undersupply.