To curb the trade deficit, the Ministry of Industry and Trade is seeking agreements with related agencies to continue restricting importations of cars with less than 16 seats.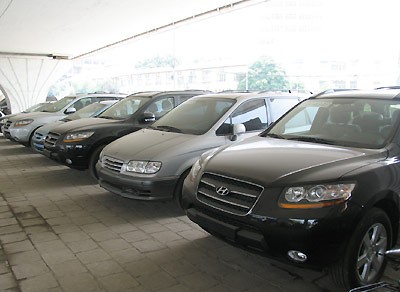 Car prices in Vietnam are always higher than the prices in neighbouring countries.
In a recent petition sent to the Ministries of Finance and Transportation, MOIT hopes to impose high tax rates and fees on imported cars of less than 16 seats, which also must pass controls in terms of formalities and registration.
MOIT also proposed issuance of an inter-ministerial circular to guide the import of under 16 seat cars, whose importation has been blamed as a contributing factor in the country's trade deficit.
Specifically, new cars of less than 16 seats will be allowed via five ports: Cai Lan (Quang Ninh), Hai Phong, Da Nang, HCM City and Ba Ria – Vung Tau.
New imports must meet strict standards on quality and be checked by registration agencies. At present, only imported used cars must meet this requirement.
Recently, the General Department of Customs issued a list of products in need of regulation for price-related risks to prevent fraud, including cars, motorbikes, air conditioners, washing machines, iron and steel for construction, alcohol, cloth and garment accessories.
The customs agency asserted that trade fraud associated with declaration of the prices of import goods is on the rise. The Vietnam Automobile Manufacturers' Association (VAMA) has asked competent agencies for strict controls on declared imported car prices.
Thanks to the government's policies to curb trade deficits, the number of imported cars has declined remarkably. Only 2400 car were imported in January 2010, a 50 percent reduction. Still, policymakers remain unsatisfied by this number.