Viet Nam's Minister of Planning and Investment is making a tour to the U.S., which he hopes will result in further spending from the fifth highest foreign investor in the Southeast Asian country.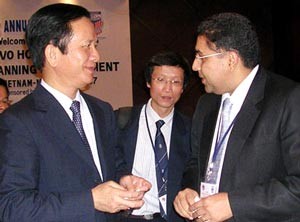 In this filed photo, Vietnamese Minister of Planning and Investment Vo Hong Phuc (L) talks to a foreign investor in Viet Nam
During the April 9-11 trip, Minister Vo Hong Phuc, accompanied by Government officials and entrepreneurs, is set to conduct promotional activities in New York, Texas, and Washington D.C.
His agenda started with a meeting with the Viet Nam Partners Group and representatives of several U.S. giants, including Morgan Stanley and Raytheon, at the headquarters of the Viet Nam Representative Mission to the U.N. in New York on April 10.
The meeting was followed by his participation in the Viet Nam Investment Forum at the headquarters of the Asia Society where the minister took the floor to provide a brief on the nation's investment environment.
Ha Noi encourages foreign investment in the manufacturing and hi-tech industries, material production, energy, infrastructure, property development and financial and banking services, Minister Phuc told American businesspeople.
He outlined the Vietnamese Government's programs to promote investment, with the focus on making laws adhere to the World Trade Organization standards, bettering infrastructure and developing the human resources.
Viet Nam has drawn in US$98 billion in foreign investment to date, including US$21 billion committed last year, Minister Phuc said. Foreign investment is currently accounting for 25 to 30 percent of the nation's total investment.
American investors welcomed improvements in the investment environment in the Asian nation, Minister Phuc told the Viet Nam News Agency on the sidelines of the forum.
He said the investors valued the country's socio-political stability, legal reform and young workforce as competitive factors when considering investments in Southeast Asia.
While in New York, the minister also met with several prominent businesspeople, notably billionaire Wilbur Ross.