Although consumer spending after Tet Lunar New Year is still relatively low in markets and retail stores across the country, milk and cosmetic producers are preparing to increase prices on many of their products from next month.
New product designs, increased prices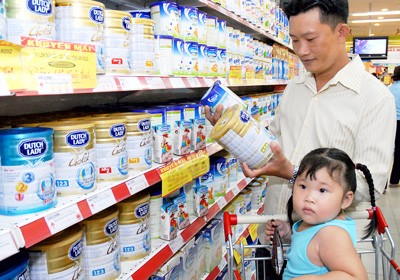 A customer checks price of a milk product at a supermarket in HCMC (Photo:SGGP)
From March 1, more than 20 products such as fabric conditioner, shampoo, shower cream and cleanser, both domestically made and imported will see a hike. Accordingly, products produced by multinational corporations will increase by 5-7 per cent and imported products will hike by 5-10 per cent.
Nguyen Thi Phuong Thao, director of Maximark supermarket said that producers say the reason for the increase in prices is to be able to provide newer products in new packaging.
She said that producers never increase all their product prices at the same time, but one or two products every two or three weeks.
Ngo Van Hai, deputy director of Citimart supermarket said that prices will increase from March as International Woman's Day is celebrated every year on March 8. Producers will launch promotional programmes for this day and offer new products. Their belief is that customers will pay attention to new products and forget old prices, he added.
The same situation will also happen to milk products produced by domestic and foreign manufacturing brands.
Nestlé has announced that some product prices will increase by 12 per cent as of March 1 as import prices have risen by 25 per cent.
Initiating the upward trend on milk prices was Friesland Campina Vietnam Company, which raised its prices by 5 per cent on February 13.
On February 13, Fonterra Vietnam Company announced an increase on all their products by 5-10 per cent.
In January, Vinamilk raised prices by 5-7 per cent on some products.
The last three months (since November 2011) repeatedly saw both domestic and foreign milk manufacturers hike their selling prices on 80 milk products. They gave the same reasons-import prices have hiked by 8-22 per cent; price for diesel fuel raised by 36 per cent; human resource cost increased by 11 per cent and electricity by 5 per cent.
Milk enterprises increase prices
Ngo Van Hai, deputy director of Citimart said that increasing cosmetic prices this time is unreasonable because purchasing power is slow and material prices have not seen much increase.
However, supermarkets can do nothing to stop increase in prices. If they disagree with the price increase, producers will not deliver their products, he added.
Hai said that supermarkets need to coordinate to speak in the same voice to deal with unreasonable issues from bigger enterprises.
Among the milk products that saw a hike, there are two products of Nestlé Company that were not allowed to increase prices because the company could not justify the hike as imported materials were still costing the same.
According to a representative of the milk manufacturer in Ho Chi Minh City, increasing milk prices will ensure benefits. He said that it is not difficult to prove input expense increase for milk manufacturers. Therefore, related departments need to strengthen checks and control on increase of milk prices.
The Ministry of Finance has sent an urgent directive, ordering the finance departments in localities around the country to stabilise milk prices, which have recently skyrocketed.
If the milk producers want to hike prices, they have to report to the local department of finance on why, and by how much, prices should be increased, said Nguyen Anh Tuan, deputy head of the ministry's Price Management Agency.
Meanwhile, if the producers are found hiking prices by a huge margin, they will be fined, he added.
The Price Management Agency has also requested that milk manufacturers not propose hike in prices of powdered milk for children less than 6 years of age.