Metro Cash & Carry on Wednesday began a sale program designed to promote Viet Nam's farm produce and seafood in the home and overseas markets.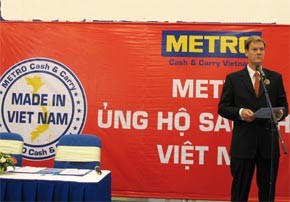 Uwe Hoelzer announces the launch of the program (Photo: Tuong Thuy)
Managing director Uwe Hoelzer launched the "Made in Viet Nam" program at An Phu store in Ho Chi Minh City's District 2.

The German wholesaler is organizing the program at its seven stores nationwide, introducing Vietnamese products by sale promotion activities. Vietnamese dishes and wine are also being publicized at the stores.
An Phu store is also hosting an exhibition of made-in-Viet Nam products that Metro is exporting to many countries across the world where the group is operating.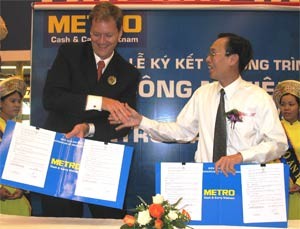 Uwe Hoelzer (L) shakes hands with Le Thanh Liem after signing the deal. (Photo: Tuong Thuy)
Also on Wednesday, Metro Cash & Carry Vietnam signed a memorandum of understanding with the Ho Chi Minh City Department of Agriculture and Rural Development to carry out a cooperation program to support distribution of the city's agricultural products.
The signatories were Mr. Hoelzer and Mr. Le Thanh Liem, deputy director of the department.

In fact, the two sides carried out a cooperation project for the same purposes last year.

Remarking it, Hoelzer said, "The success of this project is also a great example how politics and private business can work together. The interest or better the necessity for Metro Cash & Carry Vietnam was to set up a reliable supply chain; to find farmers and fishermen who are able to fulfill the expectations of our business customers."
"The interest of the Ho Chi Minh City People's Committee and the Department of Agriculture was or better is to support the local businesses, to strengthen farmers and fishermen for a changing future in the World Trade Organization," he added.
About the future, he said, "The target is to work stronger on production and processing and today with the grand opening ceremony of our Metro Group Buying Office."
On the same day, Metro Group Buying Hong Kong, part of the Metro Group, opened its representative office in Viet Nam, located in Ho Chi Minh City to carry out market research, activities to promote and formulate cooperation and investment projects.
Related article
METRO Group Buying Opens Office in Viet Nam