METRO Group Buying (MGB) Hong Kong inaugurated its first representative office in Viet Nam today. Out of this office, MGB will handle complete buying business that the METRO Group is doing outside Viet Nam.
"The new office in Ho Chi Minh City will help us expand our business in Viet Nam rapidly. We want to increase our turnover within the next years," MGB CEO Bernd Hanemann said at the opening ceremony at METRO An Phu Store in District 2.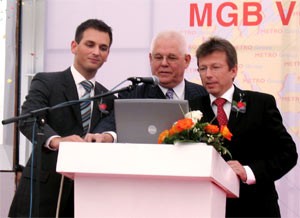 (From L) Viet Nam chief representative officer B. Preuss, Metro vice president Heinrich Birr and Hanemann press a button to link the Viet Nam rep office with MGB Hong Kong at the opening ceremony in HCM City (Photo: Tuong Thuy)
The representative office functions as a liaison office to carry out market research, activities to promote and formulate cooperation and investment projects of MGB. The liaison office will handle all the export business METRO is doing in Viet Nam, said Mr. Hanemann.

In detail, the new office is responsible for close collaboration with METRO's current suppliers, finding strategic partners, organizing trips for METRO's buyers.
METRO attaches importance to the trips because it is operating in 30 countries and its buyers will come to Asia and also Viet Nam for their buying trips. The trips must be planned and followed up carefully to make sure that the buyers will finds the products and the styles they are looking for, said Mr. Hanemann.
MGB, which is part of the METRO Group, says its annual buying volume is about one billion euro worldwide.
"The opening of the representative office today underlines on one side the major significance for us of the strong economic development of Viet Nam during the last five years, as well as the successful opening-up policy of the Government, which finally resulted in the signing of the access to the World Trade Organization this week," said Heinrich Birr, METRO vice president for international affairs.
In Viet Nam, METRO Cash & Carry is operating seven stores – three in Ho Chi Minh City and one in Ha Noi, Hai Phong, Da Nang and Can Tho each.

Related article
Metro Cash & Carry Opens Third Store in Ho Chi Minh City